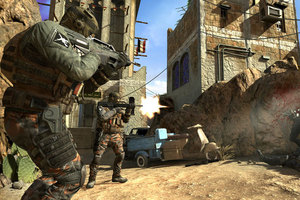 Players expect the absolute best from Call of Duty multiplayer, and Treyarch has worked hard to complement its high-class Black Ops 2 campaign with great online play.
What they have delivered is the most accessible CoD online experience yet. Hardcore players will continue to enjoy their places high up the mountain, but for new and inexperienced players, this is an encouraging package that doesn't reserve the goodies for the deadliest killers.
Thanks to a generous experience and unlocking system, great weaponry and game-changing perks can be yours reasonably early in the piece, helping you to reach your fighting potential before the CoD veterans have beaten the ambition and enthusiasm out of you.
It's cool to be hardcore, but replacing Kill Streaks with Score Streaks has opened the multiplayer right up since it encourages players to muck in and meet objectives without necessarily being the sharpest gunner (or the cheapest quick-scoper) on the map.
They are welcome sights in Black Ops 2, and for new players who want to plunge into the deep end, it's a good way to compete - and therefore belong - without being scared into hiding in a closet.
Of course, if you go into hiding in the heavy skirmishes then your enemies can find you without too much effort thanks to the easily-hailed UAV, and some sight-line friendly map layouts that make sniper nests rather unsafe places for dedicated hard scopers - and those who love to hunt them. Camping is extraordinarily difficult to pull off, and a number of player perks must be loaded up to reduce your visibility.
In effect, it's a tall glass of harden-up juice that will encourage players to work on their versatility or suffer the consequences.
The other helpful foot in the door for rookies is the combat training mode, which pits new players against humans and 'bots in an environment that is largely free of the nastiness which can put newbies right off. A special "boot camp" mode lets new players level-up to rank 10 without having to sit through piles of painful killcam footage first. If that's not enough training-wheel combat then players can stay in training and fight for reduced experience rewards. Good on Treyarch for encouraging growth through accessibility.
Black Ops 2 offers good, hard play, and it's mostly fair. Spawn-killing is a headache, and I'm not sure all the harden-up juice in the fridge could make it palatable. There are some bullet detection issues to be ironed out, and coping with them will require more patience than the world's best CoD player, a Kim Dotcom of Coatesville, was willing to give it.
He slated the game on Twitter, calling it "Bouncing Betty Ops" before cracking the world top 50, denouncing the game as "total crap" and announcing his return to Modern Warfare 3.
I don't agree with this mega-assessment entirely, but I do see where he's coming from.
Kill Confirmed is carried over from MW3 and is, for my money anyway, the most enjoyable part of the multiplayer since it utilises the best of all that's said above while minimising the worst. You could try to camp out and pop off enemies from afar, but your Score Streak will benefit more from you grabbing your dead enemies' dropped dog tags and denying them the chance to take your teammates' than it will from kills alone.
Players who preordered the game to get access to a remake of Black Ops' Nuketown map were dealt a blow by Treyarch, who removed the Nuketown 2025 map from playlists this week. After some justifiably heated feedback, the studio later announced the map's move into the Chaos Moshpit map rotation, which effectively turns your DLC code into lottery numbers. Not so cool.
The other maps are reasonably sweet, but the bullet detection bugs can sometimes take the fun out of the close-quarters maps, and I've yet to have a deeply satisfying sniper battle. I live in hope.
The Zombies mode has expanded to include a bit of story telling, delivered via Tranzit. The horrors of public transport have never been laid so bare. Jokes aside, Zombies is what it is: a bit of a supernatural diversion from the military stuff that you're free to take or leave.
To augment the online experience, I used Turtle Beach's limited edition Black Ops II Ear Force Tango headset. The wireless cans use Dolby Digital 5.1 surround sound to cram your ears full of war, and sonic tools are available to help you prioritise the sounds you need to hear. Everything is crystal clear, and voice chat is controlled by a dynamic function that keeps communications humming along during the noisiest conflicts.
The cans won't prevent you from being caught off-guard by sneaky enemies all of the time, but the more you focus, the better you can read the sonic landscape - and there's a lot of information to process. If you can spare the cash - in the neighbourhood of $550 - the Tango headset is well worth it. At the very least, it makes a great game sound much better. Used properly, it might even lend you an edge.
Halo 4 has offered stiff opposition in the final quarter of 2012, though this may be better - while being lamentably imperfect. Those impact detection issues are a hassle, and patient players can deal with it, though they shouldn't really have to.
Black Ops 2's multiplayer offering is a reasonably high mark for online play, appealing to the core without shutting the curious newcomers out. This is not the perfect multiplayer experience, but this game offers perhaps the best glimpse yet at what it might be.
* The Black Ops 2 multiplayer modes were tested on Xbox 360. The Turtle Beach CoD: Black Ops 2 Ear Force Tango headset was used courtesy of Fiveight.