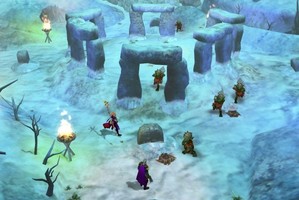 We've been keeping a pretty close eye on what n-space and Square Enix have been up to with Heroes of Ruin. The initial gameplay videos and feature listings all looked promising, but we've been misled by the promise of a decent portable action-role playing game before. Many times. Most times. With dozens of hours in the can, does Heroes of Ruin buck the trend? Let's take a look...
First, the basic premise. You choose a character from a fairly familiar roster of rogues (there's a melee guy, a mage type, and so on), then set about traversing a top-down world. You've got to right wrongs, obliterate hordes of enemies, and - of course - find awesome loot to make you more effective at the first two things. It's the basic action-RPG setup, and should be instantly familiar to anyone who's played a Diablo game or one of the Baldur's Gate: Dark Alliance titles, or any of a million others.
Things get interesting right out of the gate, as you realise you can play either online or off; take that, Diablo III. Your characters are the same either way, too, so you can happily continue to progress with any of your characters even if you're on a plane.
Online, of course, you can also play with others - complete with Diablo's excellent drop-in, drop-out style multiplayer.
The combat of the game isn't likely to win it many awards, but it's arguably as good as any of its peers, without reaching towards anything like the innovation of, say, Kingdoms of Amalur. As you level up, you can unlock skills which you can then map to any of the face buttons (excluding B, which is locked to your basic attack). Whack a skill at an appropriate time and you'll perform the corresponding action. It's more visceral than clicking on things, but it's not likely to thrill your action-oriented gamer types.
The game is split into four acts, with each act locked into a type of environment. There's jungle stuff, icy plains, and so on. Each act is made up of multiple level layouts, but in reality their variety is slight; none is particularly memorable, but they're all fun to explore - enabled to no small degree by the solid use of the bottom screen as a map.
Monsters are also quite decent, if nothing particularly exciting; the sock-puppet boss early on was a low-light, while the spiders that lower themselves onto the screen - while familiar - are a fun implementation, especially when seen in three deeee.
The loot, which is the point of this type of game, is - mostly - great. Finding items provides exactly the thrill fans of this type of game are seeking, and the simplified stats display makes choosing upgrades as easy as you'd want it to be (there's still an element of hard choices to be made, but that's what you want!) The only place it falls a bit flat is the fact that your choices make only a small visual difference to your character. If you're expecting Diablo III or World of Warcraft-like fanciness in the graphical variety, you'll need to lower your expectation a few notches or you risk being disappointed.
Otherwise, visually, it does what it needs to do. It doesn't look particularly amazing, and there is definitely some slowdown, but you can tell where the bad guys are and your advanced spell and other types of attacks generally look pretty swish mid beat-down. It's fair to say the sound is similarly present, if nothing to get too excited about.
The quests, while never straying far from the familiar, admirably tie together the narrative. It's hard to imagine anyone getting too excited about the lore of this particular universe (or the universe itself), but it's also clear that the developers focused on the important stuff: the game systems. And the narrative itself, familiar as it may be, is more than good enough to tie it all together.
The online implementation, on the other hand, is super good. Not only do you get the aforementioned drop-in, drop-out multiplayer (letting you hack away while you wait for people to join your game), but there's also an excellent daily and weekly quest system. With it, by performing any number of non-narrative tasks, you can earn special currency that lets you buy powerful items from a vendor (much like the justice points system in WoW). It's outstanding, and a surprise inclusion.
If it was possible to exceed "10" for value, rest assured Heroes of Ruin would earn itself top score - no matter the theoretical maximum. If you like loot-em-ups, and you like the idea of having one in your pocket, you'll be hard pressed to find anything better than this. Yes, there's room for improvement (particularly in the presentation department), but Heroes of Ruin is more than just a building block towards whatever's next; it's a brilliant, addictive, compelling experience in its own right. Highly recommended.
Platform: Nintendo 3DS
Classification: PG
Rating: 4.5/5