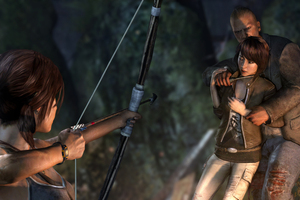 The polygon-deficient Tomb Raider definitely needs a reboot. Fortunately, that's exactly what's happening. The direction that developers Crystal Dynamics and publisher Square Enix have sent our heroine Lara Croft on, however, might take some time for fans to adjust to.
At E3 I got a personal run-through of the opening sequences with Brian Horton, the Senior Art Director, to learn more about Lara's next adventure - including an unexpected New Zealand connection.
This Tomb Raider is a prequel that is set to re-establish Lara Croft's character in the new age. From the opening cinematic, Lara is grounded in reality. She feels more 'human', and the game seems determined to connect with you on some sort of emotional level. Gone are the days where Lara ploughs through dozens of enemies before somersaulting over a pit of spikes without breaking a sweat. Here she is literally fighting for her own survival. The new Lara is vulnerable and afraid.
Her trials begin when she is shipwrecked in the Philippine Sea. Stranded on a tropical island, she is alone, wounded, and terrified. She has to put her fears aside, however, and track down other survivors from the wreck who are somewhere on the island with her. Completely unarmed, you'll lead Lara to explore her hostile territory, set up base-camp, build or salvage basic weapons, gather food, and ultimately try not to get killed.
Lara's acrobatic prowess is dramatically reduced this time around. Instead of flipping and cartwheeling like a nubile gymnast, Lara now moves around with an almost awkward demeanour. In a similar way to Nathan Drake from Uncharted, Lara now stumbles and even fails to latch onto surfaces when performing death defying leaps. Often she'll fall or slip and injure herself.
In an effort to strive for realism and confrontation, I can't help but feel the developers have taken it a little bit too far. After our short ten minute play-through, a part of me wanted to put poor old Lara out of her misery. She was constantly grunting, crying, bleeding, sweating, and screaming. Either you'll form a heart-wrenching bond with our unfortunate heroine or you'll just fling her off the nearest cliff and turn off the console.
Tomb Raider has been visually rebooted as well. The look is gritty and unforgiving, just like the gameplay dynamics. The lighting effects and texture detail create a harsh, but inviting island environment, and these translate even better to interior underground cavern levels which are reminiscent of Lara's roots. Like most modern games, there is no HUD and the game has a cinematic feel, backed up by some impressive camera angles and visual effects. It's hard not to compare the game's look and feel with Uncharted, but there are plenty of aspects which give Tomb Raider its own vibe.
Most of this comes down to the vulnerability of the lead character. While Drake has survival elements, I never felt concerned for Drake's safety. His cockiness and humour have been replaced with Lara's uncertainty and dread. The game also incorporates some well integrated quick-time events for particular cinematics.
It was about halfway through our demo, where Lara encounters a group of fellow survivors, that I got my biggest surprise. Tomb Raider seems to have a mad local connection, by way of a male survivor who appears wearing a red t-shirt with 'New Zealand' stamped across the front of it. Immediately I queried Brian, the Senior Art Director, but he wasn't allowed to go into any detail about the story or Lara's surrounding characters. I pushed further and learned about Brian's passion for New Zealand. Despite the fact that he hasn't had the chance to visit this country, his fascination and personal research were behind the character's design.
How much of a part he'll play we don't know yet, but I'm sure it will raise a few eyebrows when Kiwis sit down to play it.