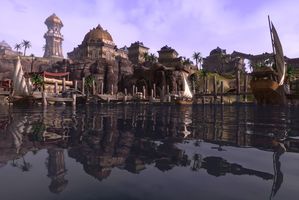 Five years in the making, ZeniMax Online studios are still working hard on blending classic Elder Scrolls gaming with the MMO world to create Elder Scrolls Online. There's still no mention of a release date, other than "2013 TBA", still the E3 demo gave an intriguing glimpse at what such a mashup might look like.
Skyrim players will be familiar with the snowy scenery and Norse-like buildings of the region, but we were also shown the deserts of Hammerfell, with ancient ruins half-buried in sand. In a lush jungle, temples were wound around with vines, while a large sailboat moored at a seaside town's dock.
It was fantastic to imagine the possibilities of adventuring, finally, on the entire Tamriel continent rather than just region by region.
The style and level of detail have been ever-so-slightly cut down, and we were told this had been intentional - to make the game accessible to players on older laptops (Mac and PC).
Still, there was a good level of detail in the characters themselves.
Three different factions are battling for dominance in Cyrodil in order to take control of the continent. But it's not just the native inhabitants players need to look after. It was hinted that the main storyline doesn't concern these warring factions after all, but rather an undead menace that threatens the entire continent. On a personal note, your character has had their soul stolen by the daedric prince, Molag Bal, and their mission is to get it back - and to save the world at the same time.
Of course, if you are more interested in running around in an Ayelid or Dwemer ruin, Elder Scrolls Online has more than enough to satisfy. ESO includes instanced, as well as non-instanced (or 'public') dungeons, with the latter providing players a way to meet new people. During the demo, it was stated that Bethesda did not want anyone to be excluded from a group because of their chosen class. As a result, each class has been designed to be able to play two or three different roles, resulting in a much more fluid dynamic for the group.
Players more interested in PvP will definitely have something to look forward to, as - according to the developers - siege warfare will be the order of the day. We didn't get a look, but the developers assured us that there would be ample amounts of mayhem in this arena.
We were also reassured that plenty of allowance would be made for people who would much prefer to just do their own thing, at their own pace. More than once reference was made to "picking flowers all day", and letting players create their characters in ways that interest them, rather than being pigeonholed.
While it's still incredibly difficult to know how an unfinished title will actually feel to play and explore, when the developers say things like "no one will ever be penalised for helping another character", this MMO is definitely headed in the right direction.