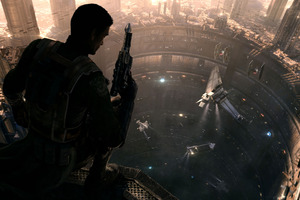 It seems LucasArts aren't very good at keeping secrets, as their "Secret Game" was actually announced a week before E3 even started. However, I was definitely not let down by what I saw of Star Wars 1313, described by LucasArts as 'the first ever mature Star Wars game'.
Many people might cringe at that suggestion, which even conjures up imagery of dodgy porno mini-games where you have to 'tend to your Wookie'. But there is no doubt that 1313 takes itself very seriously and will give fans a whole new, gritty, and seedy look into the Star Wars universe.

To show how seriously they're taking it, our presentation was divided into three parts. The first was a look into the massive team and pool of resources working together to create 1313. The LucasArts umbrella comprises some of the leading talent in multimedia today, from LucasArts Film through to Skywalker Studios. All of the special effects and audio technology, as well as their enormous graphic and artist crew, have been harnessed for the development of this game.

Dave Smith, one of the Lead Artists at LucasArts, spoke about the challenge and reward of creating a videogame as opposed to a film experience. He described real-time action as new territory when compared to film, and that getting such a high level of detail and interactivity throughout required pooling together all of the different divisions talents.
Already, in early gameplay footage, it looks like this billion dollar team effort is paying off.

1313 is set in the criminal underworld of the Star Wars universe. The name refers to the seedy and dangerous city located thousands of levels below the planet of Coruscant. Here, miles under the surface, there are no Jedi and no signs of the Force. Instead the place is inhabited by the homeless, greedy criminals, and just basic scum who have been removed from society of the upper levels.

While the lead character hasn't been revealed yet (instead the model was replaced with a stock character for demo purposes), you will live the life of a desperate, but complex bounty hunter in a ruthless galaxy. With no mention of the Force, lightsabers and force lightning have been replaced with gadgets and the toolset of a bounty hunter along the lines of Boba Fett. Your blaster will be your main weapon and the third-person shooter will rely heavily on cover-shoot combat as well as brutal melee attacks and death-defying stunts.

We were shown a live PC demo, and the game looks absolutely mouth-watering. The graphics are rich, deep with iconic Star Wars imagery, and feature some of the best character modeling I've seen in a videogame. Naturally LucasArts' motion-capture technology plays a huge part in the realistic animations and the voice acting is equally brilliant.

However, despite all of the cinematic influence on the game, the developers were quick to point out that 1313 does not feature extensive cutscenes. In fact, they said that their motto was, 'if you would rather play it through, we won't make it a cutscene'. I took this as meaning that the game will be extremely action heavy, with just storytelling aspects told via non-interactive CGI.

The short gameplay experience at E3 felt brand new, but reminiscent of old-school Star Wars, packed with no-frills blaster gunfights and almost clumsy, skin of your teeth combat. There doesn't appear to be any fancy Jedi somersaulting or special moves; the odds seem to be stacked against you. We saw the lead character go up against waves of rival bounty hunters in a firefight that culminated with our hero clinging to the burning wreckage of a rapidly descending ship for dear life.

Surprisingly, the live demo did show some noticeable signs of lag, but it is early days and the graphics must have been cranked up to a maximum for demonstration purposes.
There's no question that 1313 was one of the best-looking games on the E3 show-floor. It's a promising take on a lucrative franchise that could deliver a whole new Star Wars experience in 2013.