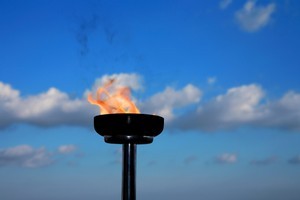 A torch which was supposed to burn brightly for the 10-day duration of the Masters Games in Dunedin was prematurely snuffed out this morning after a member of the public thought the stadium was on fire.
The torch, like the famous Olympic flame, is ignited at the opening ceremony of the New Zealand Masters Game, being held this year at Forsyth Barr Stadium.
Event manager Aaron Joy said that at about 1am today a member of the public driving past became alarmed when they saw a fire inside and called emergency services.
A stadium security guard said he was perplexed by the arrival of police and two fire engines.
It was quickly established that that the fire was in fact the 50cm flame from the torch.
All parties involved decided it would be best if the fire was extinguished to avoid any further callouts overnight.
Mr Joy said he was not impressed to find the torch out when he arrived at the stadium this morning.
"I've had to deal with some tricky situations in my time but having the symbolic life of the games snuffed out prematurely is not one I ever anticipated. I don't think it's ever happened at the Olympics."
Mr Joy wished to reassure the public that the gas-fuelled flame is housed in fire-proof surrounds and meets all safety specifications.
The honour of lighting the flame was was this year given to Otago Daily Times sports reporter Alistair McMurran.
A Fire Service spokesman said he would not be surprised if they received further calls about the flame.
"It's just one of those things. That's life," he said.
The torch was reignited this morning and will continue burning until Sunday.
- APNZ