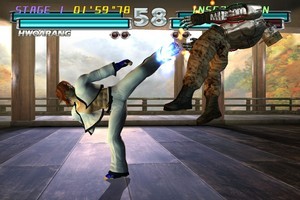 Game reviewing can often be pretty formulaic; by definition, we have a set of rules to adhere to - scores to assign to categories like Gameplay, Graphics, Sound and Value. Games, however, have no such rules and occasionally, something comes along that simply refuses to adhere to the norms.
Take Tekken Hybrid, for example; the name's the first clue - it's a hybrid, not strictly a game. Instead, what we have here is three things, so we'll review them individually.
First up, Tekken Blood Vengeance - a full-length, CG animated movie (it's even in 3D, if you've got the gear to show it).
If you're a fan of Tekken, there's a lot to love about this one - even if it's a little light on fighting. What it does have, and in spades at that, is a lot of character exposition (short of character development, perhaps, but there's a lot going on for a movie based on a fighting game).
And if you are there for the fighting, this is the first Tekken film (there have been three in total, including Blood Vengeance) that the actual Tekken game team have been involved with.
This involvement included much of the fight direction which, while massively over the top, is also recognizably based on the game that spawned it. It's a nice touch.
It also looks pretty nice, for the most part, although it's not going to scare anyone at Weta Digital or Pixar. The characters look exactly like you'd imagine HD versions of the Tekken combatants to look like and they have fairly typical - for Anime / fighting games - abilities and ambitions.
If you're an Anime fan, you'll be pleased to know that the production was handled by Digital Frontier (Appleseed) and the story was penned by Dai Sat? (Ghost in the Shell).
Considering the source material (game-based movies rarely pan out too well, let's be honest), it's pretty good - hell, I might even watch it again, which is saying something.
Next - Tekken Tag Tournament HD.
This is the only actual game in the package, and it's a remake of an eleven year old arcade / PlayStation 2 game. Tekken Tag Tournament was (and still is, technically) unique in the Tekken franchise, in that it allowed players to tag out with a second selected fighter at any time - significantly altering the fighting formula by that change alone.
The formula still works surprisingly well today, with the strategic decision around when to tag out your fighter (unlike other tag-based games, such as Street Fighter, as soon as one of your characters lose all your health you lose the round) still proving to be an incredibly important tactical consideration.
The HD makeover works pretty much as you'd expect, leaving the cinematics intact (and low-res) while the actual fighting engine is rendered in shiny high-definition. It definitely looks like an up-ressed old game, but it's crisp and nice, too, which is a treat for fans of the franchise.
Amazingly, the team did very little to the character models - as revealed by the series producer, Katsuhiro Harada, when I spoke to him at Gamescom in Germany earlier this year. The originals were so overly complex, for the time, that they still stand up today - relatively speaking - with minimal changes required.
If you're unfamiliar with the series, this is actually a pretty good place to jump in; there's heaps of content on offer, including a very in-depth training mode which proves to be an excellent place to acquaint (or reacquaint...) yourself with how it all works. Hell, there's even a respectable bowling game included - even if it pales in comparison to the modern motion-controlled variants out there these days.
Finally, the "prologue" version of Tekken Tag Tournament 2.
This is a very, very basic experience, with just four characters and not much else. If you want a taste of what to expect from the release of the full game (currently pegged for "2012"), it will do in a pinch but in reality it's like the smell of a curry after a big night out; it's just not gonna fill your belly.
You can play around with the four key characters from the film (Alisa, Xiayou, Devil Jin, and Devil Kazuya) and you can experiment with the tweaks to the fighting engine, but it's pretty hard to imagine that many people are going to be satisfied with the experience. Gran Turismo Prologue this is not.
So what are you getting for your $70, then? To be honest, not a lot. The remake's cool and all but you'd be hard pressed to justify paying more than $20 for it alone - even if you're a hardcore Tekken fan. There's no online multiplayer to justify it, so unless you live in a place where you're surrounded by people to play it with regularly... it's little more than a fan curiosity or a way to rekindle your skills before Tag 2 hits next year.
The movie's pretty decent but again, who pays more than $20 for a movie these days?
Then there's the demo of Tag 2. Again, fans will spooge over this for a few minutes but realistically, only the hardcore will still be at it after much more than an hour.
So as a package, for the same sort of price as a budget release or a game that's sitting in the Christmas sales bins, it's pretty hard to justify. For the hardcore fans only. But then, is that really all that surprising?
Rated: 3.5/5