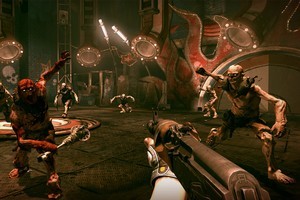 The heir to the legacy left by id Software's Doom and Quake is Rage, an imaginative mashup of first-person shooting and desert rally racing made spicier with character and weapon enhancements reminiscent of modern role-playing games. And like a deep-dish pizza with the works, it is a meaty treat indeed.
Much of the meat comes in the form of the bandits who inherit the wasteland left behind after an asteroid strike devastates the earth. You emerge from a subterranean bunker and barely adjust to the light before the first bandits try to kill you. Your mission is to assemble an understanding of why they want you dead, and to assemble the weapons and gear that will let you respond in kind.
The Rage arsenal is varied, but the crown jewel is the wingstick, a kind of double-jointed boomerang capable of decapitating a mad bandit from a great distance. As long as you can hit your mark though, any weapon guarantees satisfaction. Limbs and bodies snap back as projectiles hit home, meaning you don't need to guess whether your aim was true.
The standard combat - on foot and on wheels - is good fun and uniquely set in the style of id, but the boss battles are where Rage is at its most thrilling. In a nod to Smash TV, an early mission takes you through a murderous game show that culminates in a pulse-pounding set piece involving a brute with inhuman strength and more tricks in his toolbox than Tim Taylor.
It is a leap away from the laid-back attitudes of the non-playable helpers. Despite their constant warnings of danger on the outside, the wasteland's folksy settlers can lull you into a very false sense of security if you're inclined to let them. Don't. It'll only soften you up for the horrors of a world that grows increasingly complex as you progress.
Visually, Rage is near-perfect, particularly in the great outdoors. The sky looks like real sky, and the terrain looks like a real dusty environment shot with an HD camera. The cutscenes are so clear and detailed that it's a privilege to see such good work.
Rage is the most demanding game id has ever produced. Players must develop a varied skill set, a mind for good economics and inventory-keeping, and the patience to complete tasks while scavenging for everything. It's great fun doing so.
Stars: 4.5/5
Platform: Reviewed on Xbox 360. Also available on PS3, PC
Classification: R16