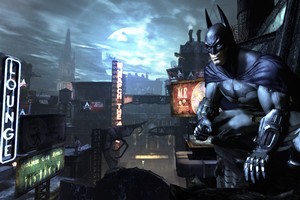 Rocksteady Studios sure do know their onions. A couple of years back, not only did they make a critically acclaimed, award winning game - they also managed to breathe new life into DC Comics' struggling interactive entertainment division. Batman: Arkham Asylum won multiple 'Game of the Year' awards, for both console and PC versions, holds a 'Guinness World Record for Most Critically Acclaimed Superhero Game Ever' and even won a bloody BAFTA for 'Game of the Year' as well.
Not bad for a small studio in Kentish Town, London. Especially one founded only in 2004 and with only a single game under its belt. Their first release Urban Chaos: Riot Response, was met with tepid reviews. Now it appears that Rocksteady have found their element and even in the face of Arkham Aslyum's break-away success, they have managed to produce an even better sequel with Arkham City.
The game opens up one year after the events that took place in Asylum. In typical Dark Knight fashion, Quincy Sharp, the former warden of Arkham Asylum, has taken credit for stopping the Joker - leaving Batman in vigilante status.
Due to Sharp's 'heroism', he is now mayor of a dilapidated Gotham City and is using his new found position of corrupt power to further tarnish the city. Large sections of Gotham's slums have been converted into a sprawling, open-air prison known as Arkham City to house the ever-growing criminal population.
The inmates are given free rein within the prison's urban walls, allowed to form gangs and run their own quadrants as they see fit. Like a barrel full of demented monkeys, it isn't long before things start to get out of hand. Concerned about the level of freedom and potential chaos happening within Arkham City's walls, Batman maintains a vigil over the detention facility.
Naturally, it soon becomes apparent that Bats is going to have one long night. To start with, the penitentiary is run by criminal genius Professor Hugo Strange who has recently discovered Batman's true identity. The Joker, housed somewhere in Arkham City, is dying of a rare blood toxin and soon shares that he and Bats have suddenly got a lot more in common. Meanwhile the Penguin, Mr. Freeze, the Riddler, the Ghul clan, Victor Zsasz, Deadshot and Two-Face (who soon becomes One-Face) are all driving their own stakes into the ground in the urban warzone as well.
It's not just the bad guys Batman has to keep an eye on either. Arkham City is patrolled by a trigger-happy, equally insane squad of heavily armed mercenaries working for a rogue private military firm known as Tyger Security.
Thankfully, The Caped Crusader will have some help. His ever-faithful, possibly highly underpaid, butler Alfred is constantly at his beck and call to help remotely analyse data and send additional equipment to his master out in the field. Commissioner Gordon's daughter is also on hand as a guide and researcher, while lurking in the shadows of Arkham City are Catwoman and Robin, who both offer their paw / hand to help Bats in his time of need.
For those who haven't had the joy of playing Arkham Asylum, every detail supplied by Rocksteady is a comic-book lover's wet dream. Gotham City is beautifully sinister, filled with shadowy tones, mismatched architecture and about a million shades of cold grey. For further effect, it's the middle of Winter in Gotham and snow flakes will swirl around the rooftops clinging to Batman's cape as he glides around the city.
All of the characters are brilliantly modelled and offer their own little twist on Bob Kane's comic-book lore as well. The Penguin is now a London-born cockney nightclub owner, who after a violent altercation is left with the bottom half of a glass bottle embedded in his eye. A genius and artistic interpretation of his out-dated monocle. Naturally Catwoman is 'fully appreciated' as well, minxing around with more sauce than a Wattie's factory.
Adding to the top-notch character models and dialogue is an equally impressive cast of voice-actor talent to match. Long serving actors Kevin Conroy and the one-and-only Mark Hamill both return as Batman and the Joker respectively. Corey Burton does his best Christopher Lee impersonation for Hugo Strange and veteran Nolan North adds to his tally of over a hundred different video game appearances with his take on the Penguin.
A personal favourite, Harley Quinn also returns with her delightfully screechy Brooklyn quips - although she is voiced by a younger actress than in Arkham Aslyum this time round. Finally the soundtrack rounds off the audio aspects perfectly, often borrowing the high-pitch drones and orchestral swells of the iconic Christopher Nolan movies.
The gameplay and controls remain basically untouched since the previous title and fans of Arkham Aslyum will have no problem settling in. The occasionally claustrophobic, 'right behind the shoulder' camera angle can take some getting used to, but players will find that the camera changes seamlessly to best suit your current situation. They range from classic third-person, to cinematic shots when grappling ledges - all the way to first-person views when crawling through vents. It sounds like a lot to take in, but the game flows through every switch perfectly and always focuses on the action when you need it to.
The biggest talking point in the gameplay is the combat. Rocksteady almost perfected the fighting mechanics in Aslyum and this game continues to improve the engine. It namely focuses on two buttons, an attack and a counter attack and although this may sound overly simplified, it's still easy to screw up. Successfully taking down multiple foes from every angle and building up devastating combos is all about timing and awareness of your surroundings. By countering at the right moment, Bats can take down multiple enemies at once, while evading and throwing his own attacks into the mix. When mastered, it becomes a smooth, rhythmic and highly rewarding process. Sort of like an evening with a Caribbean prostitute.
The movement controls are slick as well, letting The Caped Crusader sneak up on enemies, glide over the streets of Gotham, or traverse a five-story building with ease. Of course it wouldn't be Batman without a trusty utility belt thrown in and Arkham City is packed full of gadgets to try out. On top of his grappling hook, the Dark Knight will be able to use smoke pellets to evade line of sight, Batarangs to knock-out enemies, electro-guns to stun, Batclaws to disarm enemies and plenty more. The advanced remote-controlled Batarang is a highlight, letting you take control of the spinning projectile and manually guide it towards your target for a satisfactory takedown.
Admittedly, for what is essentially a third-person beat'em-up, there are a lot of controls to come to grips with in Arkham City. But it's this level of complexity that gives you a sense of full control, making it feel like you have complete access to every aspect of Batman's prowess. Quite often you will accidentally let off an embarrassing smoke bomb or leap from a ledge at the wrong moment. But all of this just encourages you to master the controls and really explore the full potential of being The Dark Knight.
Either way, it's pretty hard not to feel damn awesome while playing Arkham City. The game just oozes cool. Perhaps forgetting the occasional frustrating mission, such as the Trials of Ra's al Ghul that features identical female ninjas, antique robots, a painfully repetitive boss battle and lot of needless deaths. Thankfully even the fail screens of enemies taunting you when you die are deliciously arcade-esque and entertaining.
Ultimately this game is worth the wait. The graphics are immaculate and the gameplay superb. Just prowling the streets of Arkham City, taking down thugs and solving dozens of Riddler puzzles scattered around Gotham generates hours of fun. The main storyline is compelling, offering a wealth of different environments to explore and the game is packed with side-missions to keep you distracted. Whether it's chasing ringing phone-booths from one end of the city to the other to stop a homicidal maniac or disabling toxic canisters that will bring an end to Gotham, you'll never be short of something to do.
Even Catwoman's playable missions, which I initially considered to be a cheap selling gimmick, add a lot of value to this game. Her titillating character plays in a completely different manner to the Caped Crusader's and the change in tempo works well.
When you've finished the campaign, Arkham City includes Challenge Maps and other worthy unlockables that easily amount to over 40 hours of solid gameplay. Not to mention Robin's extra Challenge Maps and an up-coming Nightwing DLC that will ensure this game is still getting game-time all the way up to Christmas. Perhaps even next Christmas. Be in the queue when Arkham City lands today.
Xbox 360/PS3
Rated:5/5
Classification: M