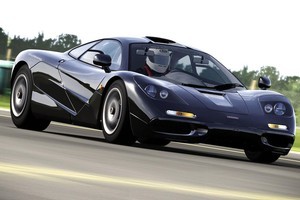 "We are an endangered species, you and me," drawls Jeremy Clarkson as the opening credits for Microsoft's new Forza Motorsport 4 racing sim roll, before ranting about "a world of hybrid this, lentilmatic that".
This indicates a game for purebred petrolheads - like us - and offers an unparalleled gaming experience that includes driving almost all of the world's most desirable cars and tackling some of the best tracks - from Spa to, of course, the Top Gear test track.
While most of us aren't blessed with the mountains of cash it takes to hit the track in real life, the virtual motorsport world is a far cry from the clunky race sims of old, and Forza 4 for Xbox 360 is close to pixel-racing perfection. Aside from the hundreds of cars and dozens of circuit options on offer, there are some new tricks.
AutoVista uses the Xbox Kinect sensor (a gesture-based control system) to allow players to walk around cars in a virtual showroom, opening doors, playing with features and learning about various aspects of each vehicle - even turning the key and giving it a rev.
There's even voice control via Kinect - just say "Xbox, buy cars" and you're immediately flicking through brands' showrooms and buying up supercars, classics and iconic racecars - or bog-standard micro-hatchbacks, if you're that way inclined. And "head tracking" lets the Kinect sensor track your head movements so players can look into a corner as they would when driving.
Even driving the cars can be done via Kinect - although it is far less responsive than using the Xbox controller or a steering wheel peripheral - which will make the game more accessible for those who aren't used to playing videogame consoles.
Dan Greenawalt, producer at Forza creator Turn 10, described the new game as being on "a whole new level".
"You can open the doors, open the hood - it shows an incredible level of detail."
But Forza is much more than pretty pictures. It has physics modelling that goes as far as simulating the flex of a tyre's sidewall through a corner.
"The way we developed that tyre flex model was by developing strategic partnerships with tyre manufacturers and simulation manufacturers like McLaren," Greenawalt said.
"Even though their simulators are worth millions, they look horrible. The driver doesn't get anywhere near the level of visual cues that you get in Forza Motorsport, like visible brake markers or trees in the right place.
"They're very cognisant about having the right bumps in the right place on the track. But where the sun is going to flare, what the surroundings look like aren't in their simulations - so we send them our track models and we share with them some of our rendering tech. We get simulation expertise, they get our rendering expertise."
This has worked extremely well for the Forza series, and it allows one of the best race sim experiences.
In my garage there is everything from a stroppy wee Abarth Essesse to a terrifyling supercharged XB GT Falcon and a smattering of Japanese GT cars and Le Mans-type sportscars. Cars you "build" in the game can be shared with a huge online community or auctioned for game credits. You can share video replays of races, or photos that you've taken of your creations - or you can just race your mates online.
The Forza philosophy is strongly slanted towards the love of cars, so even those who don't like to race can tart up vehicles and share them online where others can rate them.
But if you're brave, there's highly entertaining aspects like knocking over pins on the Top Gear track and playing "car soccer".