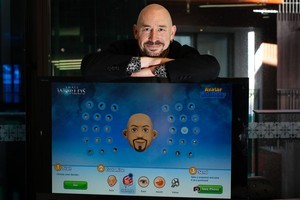 Outsmart, the company which launched SmallWorlds.com in December 2008, the online game played on social networking sites, is on the acquisition trail after a recent fundraising round of $2.5 million which brought in investor and new board member, Sam Morgan.
Outsmart co-founders Mitch Olson and Darren Green, who launched their business in January 2005, are keeping an eye out for other games companies which will integrate well within Facebook and other social mobile platforms. "They are the fastest growing by far," says Olson.
While Outsmart won't disclose the revenue it earns from SmallWorlds, the game has 6.5 million signed up players to date - the majority in the US and the UK - but Olson and Green have a target that SmallWorlds will be bringing in $100 million in revenue by 2013. They plan to introduce SmallWorlds to non-English speaking countries such as Portuguese-speaking Brazil.
Outsmart's aspirations may not be unrealistic. FarmVille, launched in 2007, attracted more than 85 million users at its peak. The company which owns it, Zynga, has sales of $597 million and is set for a $20 billion IPO. Research firm eMarketer expects overall US social gaming revenue to hit $1.1 billion in 2011.
SmallWorlds, for the uninitiated, is a new generation of virtual world that runs inside your web browser, without the need to download or install any other software. It combines media, web content, and casual games into a 3D world that integrates with the rest of the web, bringing virtual worlds into the mainstream.
The game allows users to create and customise their own rooms and worlds and share experiences such as watching YouTube videos, and listening to their favourite bands together. "The game play takes place inside a space which will be anything from an island resort to a paint ball arena," says Olson.
The business model of SmallWorlds is players pay to make their avatars look more interesting or unusual. The latest virtual print for an avatar can be purchased for US$5 ($6) or SmallWorlds gold or tokens. The print used by the first avatar at the launch in 2008, Snow Fox, is now worth US$3000, says Olson. There is also a subscription-based VIP club.
Olson and Green are veterans of Rich internet Application and well connected. Their initial funding for SmallWorlds came from Disney's venture capital arm. Olson's experience is in the design, development and commercialisation of technology to large consumer markets. Green has been CEO of Liquid Edge Games, an award winning 3D internet games company.
With SmallWorlds, the pair say they are trying to help people build their mastery, their sense of power; to have autonomy and self expression; to enjoy social relatedness; and to have a sense of purpose.
Outsmart's board is made up of Atlanta-based Payman Pouladdej, Jade CEO Craig Richardson and Sam Morgan. Pouladdej was an investor in MyMiniLife, the technical foundation of Farmville.
Outsmart employs about 70 part- time staff in the overseas markets, largely tech moderators and 35 programmers and artists in Auckland. "Our product designers need to have not only in-depth product design engineering intuition and experience, but also be well versed in human psychology and game mechanics."
The game is most popular with 13 to 18 year olds and women in their 30s and 40s, the US "soccer moms".
Peak playing time is when kids get home from school until 10 at night.