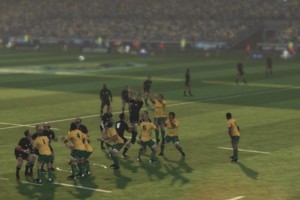 With the Rugby World Cup almost upon us, it is no surprise at all to see rugby video games on the horizon as well. After having a play of the rival title, Rugby World Cup 2011, I've been given my own chance to play a bit of the nearly-finished All Blacks Rugby Challenge.
There is a real air of quality here. Sidhe have clearly put in a lot of work on presentation in Rugby Challenge. The screens and interface are well polished, and the game as a whole looks very slick. Asynchronous loading means players can have a free run around the pitch while waiting for matches to begin (as in FIFA), and you can even use this time to go through training drills. Attention to detail and an intense original score really raise the emotional impact, too - the first time you play really brings out the big-match feelings.
I don't want to get too much into the general gameplay, since James Nokise covered that quite nicely in his preview. There's a reasonable amount of challenge in the rucks and mauls, and the lineouts combine tactics and timing rather well also.
But the biggest on-field coup, to my mind, is the scrum system, which involves both sides pushing up on the thumbsticks repeatedly when prompted. Timing is everything and, particularly in competitive multiplayer, the scrums can become an epic battle - almost a mini-game in themselves.
At the team level, things get even more interesting. A team's performance is not only based on the sum of its players, but also on team attributes and tactics. Team attributes measure the side's overall cohesion on attack, defense, set-plays, et cetera. The tactics screen allows you to adjust the style of play, moving sliders to set the balance between passing and driving up the middle, offloading or taking the hit.
These settings introduce character to the teams: English and South African sides will be more likely to play conservative rugby, whereas Australian and New Zealand teams will look more towards the high-risk, high-return game (and I can only assume that the All Blacks have drop goals turned all the way down). Obviously, when a team is human-controlled, these elements are going to be less obvious, but they will still have an important effect on the decisions of AI-controlled friendly players in real time. And all this is driven from real game statistics.
Also adding to the game's depth is its career mode, which gives you control of a club, country, or both, for up to thirteen seasons. While the level of sophistication here is not great - drafting players, for instance, just involves picking from a list of available rookies and pros at the start of the season, with no money issues - it will give the game some real longevity, and hardcore rugby fans will no doubt be pleased just to carry their team over from season to season.
One disappointment that was perhaps inevitable given the competition from Rugby World Cup 2011 is the gaps in the rights to real teams and players. While the domestic competitions are pretty well covered, pickings seem significantly slimmer on the international stage, with only New Zealand, Australia, and the United States currently on-board. The other major rugby-playing nations will still be represented in the game, but without official logos or real player names. Rather than substituting the actual names for obvious falsies using letter substitutions or "clever" wordplay, Sidhe have opted to create entirely fictional line-ups for the unlicensed teams, using regionally appropriate names, and stats which have been randomly varied, but keep in line, generally speaking, with the skill-set of the actual team.
What does this mean in practice? Well, you won't recognise any of the South African players, but they'll still have recognisably South African names, and they'll still most likely be playing ten man rugby. And in some cases (particularly with the European teams), you will be able to find the real players in their clubs and add them to the national line-up yourself.
Really, though, does it matter what players are missing if you can replace them with a fully licensed Jonah Lomu? (Earn enough rugby dollars and you can apparently unlock a whole team of him!)
The game has five different difficulty settings, to accommodate everyone, from casual gamers to hardcore rugby heads. Even on the middle settings, kicking for goal presents a reasonable challenge - and the hardest setting has been aimed at giving the game a real endurance factor in single player. You can also set the game length to anything from 5 minutes to the full 80.
This is looking like a very impressive game of footy. The game itself is a lot of fun, but what really strikes me are the features. With all the different modes and customisation opportunities, this looks like it could play well not just through the World Cup, but well into the future.