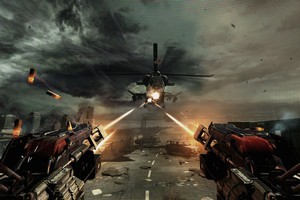 There is plenty of mess, but little messing around in this bloody hellhole of a game. Where other first-person shooters have ramped up violence in their own way, with graphic killing and torture scenes driven by realistic political and military situations, F.E.A.R. 3 goes straight for that special place inside those of us who pay good money to be scared almost completely senseless by paranormal activity.
Players control Point Man and Paxton Fettel, the protagonist and antagonist of the first instalment, as they race to stop their insanely powerful psychic mother from giving birth to the child she conceived by sexually assaulting Becket, the hero of F.E.A.R. 2. Forget about clan Addams, this family outspooks them by miles.
Gameplay is standard FPS fare, augmented by the heroes' psychic abilities, and the gore factor creates a deeply satisfying experience. Headshots cause enemy skulls to explode in a bonanza of red liquid and screams, and the overpowered shotgun and sniper rifle can blast off enemy limbs with precision. On the downside, it is hard to throw grenades with accuracy, making them more of a self-harm tool than a useful weapon.
The level design must be praised considering that while it's impossible to move more than five paces without seeing some degree of blood and guts, the scenes have enough variety to stop the red stuff from becoming too familiar. Most memorably, a Costco-style megastore overrun by suicide bomber zombies threatens to become the source of many nightmares. The butchery department is turned into a gory maze of meat, with ragged human and porcine carcasses hanging from the ceiling, while a heart-stopping encounter in the home electronics section will forever change the way some players view shopping for a new television.
F.E.A.R. 3 includes a point-scoring system, based on actions taken both in campaign and multiplayer, which advances the player's online rank and delivers some sweet perks. Replay value is guaranteed.
The best multiplayer offerings are the frantic F**king Run gauntlet dash game and Soul Survivor, where a player-turned-spectre is given a time limit in which to turn friends into zombies.
Verdict: Through Point Man and Fettel, the campaign can be played in entirely different ways and the variety in multiplayer modes gives F.E.A.R. 3 players plenty of reasons to stick with the title long after they pop it into their machines. This game hits the mark squarely, and brutally.
Stars: 4/5
Reviewed on Xbox 360, also available on PS3 and PC (R18)