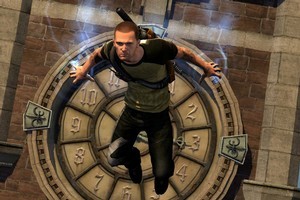 Electrically-charged superhero Cole MacGrath is back, with more serious powers, a big, scary fight to win and a country to save. The sequel to the stunning 2009 third person action title Infamous has picked up where the original left off - but now Cole can choose to become the beloved hero of the people, or the biggest bastard ever. And with a pile of electric shock powers, the ability to hover and "grind" along wires and bounce around the rooftops, he's someone worth keeping on side.
By adding a karma-based good-or-evil choice system, skilled developers Sucker Punch have created a game that really should really be played twice. It kicks off in the ruins of Empire City, with talk of a prophesised enemy called The Beast, which arrives, smacks down Cole, wrecks the city and sends our protagonist, his new right-hand-woman Kuo and double-crossing old mate Zeke fleeing south to the locked-down city of New Marais.
The huge open world game improves on Infamous, but retains the things that made it great. Its parkour and climbing combination make for vertigo-inducing progress up buildings, and sliding along power lines and tram wires with sparks flying is hard to beat for grin factor.
Sandbox games can get a bit unwieldy, but this has enough side missions and a well-crafted story so that you're never far from the thick of the action. In the unlikely event that you do get bored, UGC content - missions designed by players - can be accessed by map markers, and radically increase the already large amount of gameplay.
Fight-wise, it sees Cole tackle New Marais dictator Bertrand's militia and the odd mutants (ranging from dudes with claws to massive monsters), as he collects items like the powerful blast shards hidden around the city to improve his powers enough to eventually beat the Beast. A challenging pick-up, Dead Drops, are data that help fill in bits of the story - but they're on pigeons that need to be shot down.
Helping people ticks up karma points and unlocks "good" side missions, while being nasty unlocks evil tasks. Controls are about the same as the original, and there's a new weapon called The Amp to use in melee attacks - very effective, but the only time Cole gets hard to control. It's easy to accidentally kill bystanders, which doesn't help the karma curve - but if you're playing evil it works out very nicely. Those on the dark side even get to kill off street performers for extra credit.
Graphically, Infamous 2 was always going to be a winner - amazing-looking games are a Sucker Punch strong point - and the New Marais cityscape is far more exciting and engaging than Empire City was. Audio is equally impressive, with strong voice acting making the character-driven storyline even better.
Another PlayStation exclusive that will make Xboxers jealous, Infamous 2 is worth picking up whether you've played the original or not. At least 20 hours of gameplay for one playthrough - but it really deserves a run through as nice, and another as nasty.
Stars: 3.5/5
Platform: PlayStation 3
Rated: M