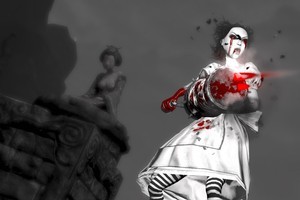 It's back down the rabbit hole in Alice: Madness Returns, the follow-up to the 2000 cult hit that took Lewis Carroll's classic tale of Wonderland to a very dark place.
The new game is set about a decade after the original. Alice has traded the confines of Rutledge Asylum for a London orphanage but she's still a very troubled young lady, haunted by a dark past.
You start out in drab old London but soon make your way back to Wonderland.
And what a wonder it is: while the game's graphics are technically dated, its art design is impressive.
You'll journey through Avatar-esque forests, icy tundras, steampunk-inspired floating factories and a whole host of other creative and colourful environments, meeting familiar faces like the delightful Cheshire Cat.
Unfortunately, Alice: Madness Returns isn't quite as fun to play as it is to look at.
The bulk of the gameplay consists of unspectacular 3D platforming. It's mostly fun but occasionally frustrating, and some sections drag on much too long.
The game also involves some light hacking and slashing, some light shooting and some very light puzzle-solving. Combat is more sophisticated than most platformers but it won't wow you.
The game tries to add some variety with some 2D side-scrolling levels and other minigames but these feel half-baked.
The game's biggest flaw is perhaps its strangely uneven tone: it can't seem to decide whether it's for kids or adults.
Its fairytale roots, cutesy characters, simple puzzles and linear gameplay make it feel like it's aimed firmly at the former. But a smattering of horror and coarse language make it inappropriate for youngsters - while not quite making it a satisfying experience for adults.
Verdict: Alice: Madness Returns looks a treat and is generally fun but should have embraced rather than shied away from its dark side.
Available on: PC, PS3 and Xbox360
Classification: R16
- AAP