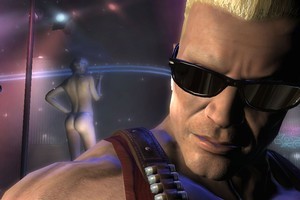 Some game franchises should just die quietly when they have the chance. This latest game set around the ever-popular killing machine should never have seen the light of day after endless promises that weren't kept.
But, it has to be said, good on Gearbox Software, which acquired the game last year and actually got the thing to market where others had tried and failed.
DNF (ha ha) was announced way back in 1997 - and if it had have stayed in the decade, would probably have been received with open arms.
But these days, it takes more to woo gamers than a crewcut-sporting misogynist in bad sunglasses. The schoolboy humour is intact, although it seems even more dated in this more liberal era - like the "wall boobs" that Duke is urged to slap occasionally. One-liners pulled from action films still offer a good laugh, although some of them do get a bit repetitive.
Gameplay itself is utterly ordinary; though you'll get a blast of nostalgia for the first few minutes, it quickly becomes pedestrian.
The control system is basic, but sticky and slow - trying to take out multiple flying enemies while you have to wait for your scope to catch up with your movement does not help you win firefights.
Duke's movement and dexterity is a far cry from what you'd expect in a modern shooter, which makes for some frustrating levels where game mechanics prove to be the real enemy. And as for enemy AI - it's so basic the challenge becomes remembering where the aliens will spawn from, not actually blowing them to bits.
But Duke's substance abuse does add some fun - drink beer to be tougher, albeit with blurry vision, or neck steroids to smash foes with a single, bloody punch. Graphically Duke Nukem is also caught in a timewarp - there are major framerate issues; and characters, weapons and items generally look blocky and dated.
Though the environments' designs don't miss the mark by much, the level of interactivity with items in a modern game is much higher, and they look awful and patchy. We're also a bit more demanding of quality splatterhouse gore these days too. Other characters in the game - including the delightful Pigcops of old and, of course, endless strippers and anatomically dodgy bikini babes - all seem wooden and clunky, although this fits the less-than-stellar voice acting.
If you want a class shooter with awesome gameplay, get Black Ops; if you'd like a slightly less classy title with crass humour and sexist anti-heroes, get Bulletstorm.
But if you're a true fan of the Duke Nukem series and its numerous spin-offs on numerous devices, by all means have a look - give it a month and check the bargain bins.
Stars: 2.5/5
Rating: R18
Platform: Xbox 360
- TimeOut