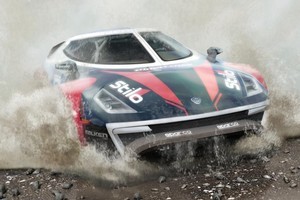 This mud-loving racer grew out of the ashes of the Colin McRae rally series, adding some hardcore motorsport classes and much-needed extreme action to the long-running franchise.
DiRT 3 takes away the event interface that slowed down the second version so much, and adds an easier-to-follow career mode. That said, load times are still glacial. But it's mostly good news for fans of the gravelfest - there's now Group B rally cars,
point-to-point weapons like Rod Millen's Toyota Tacoma hillclimber, Baja buggies and stadium trucks - even 60s, 70s and 80s rear-drive rally cars.
Tracks and environments in DiRT 3 are awesome - from high-speed desert runs to blizzard-struck snow circuits and wet forest rally stages, with every bump, jump and culvert rendered perfectly. There's everything from pure rally stages to rally cross, ice racing, hillclimbs, head-to-head and even gymkhana.
Car
physics are equally impressive, although it is recommended doing a "restart" practice run with each new vehicle before committing your skills to the leaderboards.
The clever physics engine is vital for DiRT 3's big draw - gymkhana - as presented by rallysport posterboy Ken Block. These levels are challenging to begin with, with spins, donuts, jumps and drifts requiring near-faultless execution to stay at the top of the table.
There are three difficulty levels, so those who are more used to the easy arcade-style racers won't feel too bumbly - if you're a racing gamer, start on the middle one. Online play is tailored to each difficulty level, and those feeling very smug can instantly upload their replays to YouTube with the push of a button. This is the best rallysport game on the market - a must-get for racegame fans.
Rating: 4.5/5
Classification: PG
Available on: Xbox 360/PS3