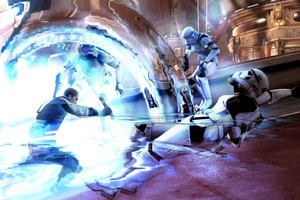 The Force Unleashed II, set shortly before the original Star Wars film, continues the story of Darth Vader's secret apprentice Starkiller and his - or his clone's - struggle to learn his own identity and choose between The Force and its nasty twin, the Dark Side.
How does it feel to be in control of a powerful Jedi? Imagine this: You're breaking out of a prison, using The Force to carve your way through enemies as Vader himself curses you from afar. They're coming at you from the decks, so you use The Force to hold them in stasis until you're close enough to shred them with your dual-wielded lightsabers. They're coming at you from the skies, so you use The Force again to stop the TIE fighters in mid-air, either to cause aerial collisions or to simply crush the things like cans. Just keep marching until you reach the first level's goal: a potentially deadly encounter involving the AT-AT walkers (those large robot-dog-things from Empire Strikes Back) and a large contingent of Stormtroopers.
Scary? No. They're no problem at all! Simply use The Force to turn those machines into abstract art, then halt the ground assault with one hand while you stir your Milo with the other.
Actually, that is the problem. Like the chap who was too sexy for his hat, Starkiller is too powerful for this game. The zap-and-slash action repeats itself from level to level, and the only real challenge lies in not misjudging leaps from one platform to another.
Granted, this gives you plenty of time to enjoy the scenery while dangling Stormtroopers over environmental hazards (then letting them go free for a moment before mind-tricking them into killing themselves) but even that wears thin by the time you've hacked your way to the game's climax some five or six hours later.
Verdict: If the point is to put the full power of The Force into the player's hands, then The Force Unleashed II is a success. If the point is to hold your attention for longer than a weekend, this one could be forcing it.
Rating: 3/5
Classification: PS3 (Also available on Xb360, Wii, PC)
Rated: M
-TimeOut