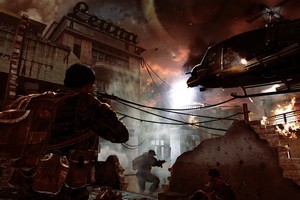 Call of Duty is undoubtedly the killer franchise when it comes to first-person shooters. Last year's Modern Warfare 2, from respected studio Infinity Ward, became the top entertainment release of all time, and fresh offering Black Ops is reportedly outselling that by a solid margin. Black Ops is made by Treyarch, which already has a strong footing in World War II games, and focuses on the Cold War, kicking off with a controversial mission to assassinate Cuban dictator Fidel Castro.
From there the roll-call of missions takes players across the globe as the top-secret Studies and Observations Group try to find a mysterious bioweapon called Nova 6 before it's used in the US. The story kicks ass in a huge way - offering a more cohesive and intense campaign than Modern Warfare 2 did, with enough mystery to offer a few surprises as it unfolds.
The gameplay is outstanding, albeit with a few issues with the selection of weapons and strategic necessities, giving Black Ops a far more tactical feel.
There is frantic action from the word go, with hordes of enemies between you and your targets as you blast your way through the increasingly tough and often frustrating levels for a good six to 10 hours of gameplay, depending on skill.
There are also a number of vehicle-based missions, taking Call of Duty somewhere that Infinity Ward never really managed. These include a motorbike chase as you flee Cuban soldiers angry that you tried to shoot their boss in the face, heavily armed gunboats raining missiles down on NVA positions in Vietnam, wild helicopter missions against ground and air targets - it all makes for a varied and riveting FPS outing. And when campaign mode is done and dusted, a good set of extras are on tap. Maps are good, combat training lets you play against AI versions of your network friends. Oh, and you get to go on killing sprees - even as JFK - in the delightful Zombie mode.
There isn't anything hugely irritating about Black Ops. The worst feature is allied name tags not popping up quickly enough in hardcore firefights - members of your team don't like being shot by their own. There's also a tendency for your character to respawn right in harm's way - irritating if you're in the firing line of a helicopter or a bunch of adversaries.
Verdict: Treyarch have exceeded all expectations with Black Ops, delivering what is undoubtedly the best first-person shooter on the shelves in 2010. It boasts both a superb campaign and story mode, engaging online maps that don't leave newbies out in the cold - and, of course, zombies.
Rating: 5/5
Classification: R16
Format: Xbox 360, PS3, PC