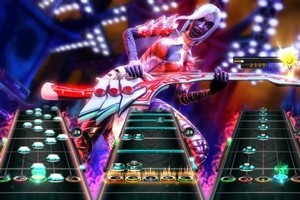 Is Chad Kroeger a warrior of rock? No he isn't. Neither are many on the massive setlist for the latest Guitar Hero release - which this time comes with a wholly dubious "Quest" mode.
Out of the box, WoR gives players access to a good 90 songs - ranging from the likes of Dire Straits' Money for Nothing and Queen's Bohemian Rhapsody to high-impact grunters like Pantera's I'm Broken. Quest mode basically sees players in a "battle to save rock" - narrated, quite boringly, by Gene Simmons of Kiss.
Players progress through the mode by performing a brief setlist to achieve stars - once there are enough stars, you level up. This means tricks are unlocked to increase multipliers and score higher - which also enhances Quickplay+ mode.
A highlight is a performance of Rush's entire 2112 concept album. Further down the track you're hit with the true nasties - Dragonforce and other hand-killing metal speed-fests that only true Guitar Heroes can cope with.
The meat n'spuds of the game is Quickplay+ - following the tried and true formula and definitely the most entertaining in multiplayer. Oh, and there's now Facebook and Twitter integration to spam your friends with.
Verdict: Even in context the new Quest mode isn't that flash - if you want to save rock, play Brutal Legend. On the bright side, there are heaps of songs to tackle, previous World Tour and GH5 content can be added to your playlist and there's access to the massive library of downloadable Guitar Hero content.
Rating: 3/5
Format: Xbox 360, PS3, Wii
Rated: PG