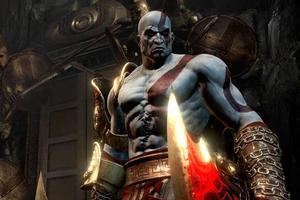 The end of the spectacular PlayStation-exclusive God of War trilogy does not fail to deliver. It is the first instalment of the game to find its way on to the high-def PS3 - although a special 720p set of the previous two games will be available soon. Following Kratos' vengeful war against the Gods, this is a hack 'n slash through the realms of Greek mythology in spectacularly gory detail. Graphically, the game is excellent, with levels involving the Titans pushing the PS3's hardware with brilliant results, showing a scale previously unseen in the epic series. There's no shortage of challenge as you encounter puzzles and hard-to-kill level bosses.
The usual collection of ultra-frustrating puzzles, angry Kratos storyline and chained blade combat is samey to start, but as the game progresses a more human side to the ex-Spartan is revealed, giving the tale more weight. New weapons are gradually collected throughout the game, and though the blades are familiar and engaging, newbies like the Nemesis whip and giant iron globes called Cestus are extremely entertaining.
Verdict: A superb finish to a deservedly successful series that stretches the PS3's power and closes out the riveting God of War tale. Third-person gaming at its blood-spatteringly violent best.
5/5
Reviewed on: PlayStation3
Rating: R16