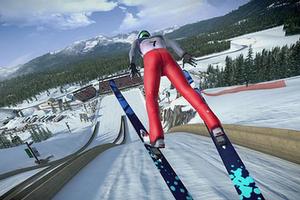 As exciting as Olympics can be, Sega's licensed Winter Olympics title has managed to suck the fun right out of it. It isn't the sports that are the problem, it's the mish-mash fashion in which it all fits together. Weirdly, there is a variety of events, some men's, some ladies, but not the option of either.
The 14-sport line-up is reasonably interesting - downhill, slalom, Super G, speed skating, ski jumping, luge, bobsled and snowboarding included.
Some require buttons to be pushed at the right time, with milliseconds dictating sizzling victory or face full of snow, and others are simply tearing down a hill without missing gates or falling over.
The sports are fast, involving, get adrenalin going and are challenging enough to play for a short time, but sega fails in tying them all together. Basing it on the Winter Olympics would have worked well.
Once you've waded through the easy-to-follow tutorial modes, and headed for the main event, it becomes obvious that you shouldn't have bothered as it's essentially the same.
With no "career" mode as such, players have a crack at each event in no particular order, competing against three others (online, human, CPU or LAN competitors). Online leaderboards provide something to aim for, but some scores are ridiculously hard to replicate.
Verdict: Vancouver 2010 is okay as a rental or short-termer - its ongoing playability is virtually non-existent. And the final insult? New Zealand isn't one of the countries on the list.
2/5
Reviewed on PS3, G