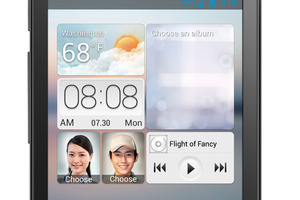 Huawei's attracted a fair bit of media attention in recent times, and sadly not enough of it has been to do with their phones which always seem to offer a pretty amazing bang per buck performance equation. The latest cab off Huawei's rank is the Ascend G510 which is expected to go on sale via Vodafone shortly and is expected to retail at just under the $300 mark depending on which mobile plan you choose. It's a budget smart phone, but one that really bats well above its spec and price.
Look and feel
Essentially your typical black smartphone rectangle, the G510 feels good in the hand. Where some Huawei hardware has historically tended to feel a bit light and flimsy, the G510 feels solid and has a reassuring heft to it. I also liked its textured back. It's a simple thing that other phone makers appear to have overlooked, but having a grippy back to a smartphone just makes a whole lot of sense if you're as much of a klutz as I am.
Powering the G510 up reveals a pretty decent screen. While it doesn't sport 400 bazillion pixels-per-inch, its 480 x 854 resolution equates to about 218ppi, which is still plenty useable. Outdoor testing was fine and it delivered near tanning studio levels of brightness when used indoors. One thing I liked about Huawei's choice of TFT LCD over AMOLED was that garish, over saturated colours were replaced by more natural colours that were far gentler on the eyes. Viewing angles were also good.
Taking a leaf out of Samsung's book, the back of the G510 also has a removable to provide access to the battery, a full-sized SIM socket, and a microSD memory slot. MicoSD is a nice addition that'll quickly become essential for multimedia use as the G510 only has 4GB of storage baked in (which given its sticker price isn't a huge surprise). Interestingly NFC (near field communications) has also been built-in too. NFC is already used to pay on public transport but I've yet to see any phones actually making use of NFC for anything meaningful beyond sharing contacts and files.
Huawei have also added a custom user interface to the G510. Whilst android interface overlays is usually a source of frustration (what is so wrong with just plain old Android??), I was pleased to note that the Huawei launcher wasn't gimmicky, garish, cluttered or counter-intuitive and actually looked pretty decent too. A particularly nice feature was the use of selectable themes, which can change the look and feel of the launcher. I also liked the DLNA app, which allowed me to stream content of my western digital network hard drive and stream video to my media player.
One feature that I'd forgotten how much I missed was profiles. Last seen on Nokia phones way back in the day, profiles allow you to set phone parameters for specific event such as ringtones and audio notifications. For instance when in a meeting I enabled the meeting profile which turned the ringer to vibrate and enabled mobile data so the meeting wasn't derailed by an incoming call but an email we were waiting for could come through. It's a simple thing that proved insanely useful. Best of all it was also dead easy to use.
In Use
Given the very reasonable sticker price of the G510, I had to admit that my expectations were not high when it came to the camera. In use I was pleasantly surprised. Photos taken under decent lighting conditions featured good colour saturation and a detail. Moving indoors however saw the camera struggling. Any movement translated into a blur, unless the flash was enabled, but being an LED flash, it tended to blow out highlights on nearby objects, giving them an unnatural colour. But given the G510's price tag it is pretty hard to complain.
Plastered across the back of the G510 is a DTS logo. For playback through headphones I found it added a bottom end to audio and slightly widened the soundstage. It's a nice feature but in reality is probably an equalisation trick with some magic marketing powder sprinkled over it.
Voice Quality
Ironically one of the least commented features of smartphones tends to be call quality, yet this is one of their main reasons to be. Coverage on the Vodafone network is a mixed blessing where I live but I found calls made on the G510 worked really well. Even though signal strength fluctuated from 1 to 3 bars, in-call audio hardly ever broke-up. The distortion prone speaker phone was not a high-point, but then I've yet to see a mobile phone that can really deliver the goods in the speaker phone department.
Battery
Given the dual core CPU, big LCD screen and budget price tag, I also wondered about battery life. As it turns out my fears were unfounded and the G510's 1700mAh gave me a day of average use and even longer with light use. Having a removable battery is also handy as heavy users can buy a spare to maintain contactability.
Verdict
The G510 might not be the most glamorous or exciting smartphone you'll ever see, but for under $300 and it is well built and well featured. Aside from its poor indoor camera performance, it managed to perform well above its budget price tag - especially given its solid spec. If you're looking for a solid budget smartphone, the G510 is a worthy contender just factor in the additional cost of a high capacity Micro SD card into any purchasing budget.
Tech Spec
RRP$: Depends on chosen plan
OS: Android 4.1
Dimensions: 134 x 67 x 9.9mm
Display: 4.5, 480 x 854 pixels, 218 ppi, TFT LCD, Capacitive, Multi-touch
Talk time: 5.80 hours
Stand-by time: 13.3 days (320 hours)
CPU: Dual core, 1200 MHz
Storage: 4 GB
Storage expansion: microSD (up to 32 GB)
Camera: 5 megapixels, LED Flash, Auto focus, Digital zoom, Self-timer
Camcorder: 640x480 (30 fps)
Front-facing camera: 640x480
Connectivity: GSM (850, 900, 1800, 1900 MHz), Bluetooth 2.1, Wi-Fi (802.11 b, g, n), NFC
Positioning: GPS, A-GPS