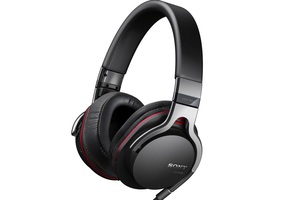 Next time you're traveling take a look around and you'll see more people wearing quality headphones than ever before. The noise-cancelling headphone market is growing quickly and last year saw a slew of new models released - everything from Parrot's Phillippe Starck designed Ziks to Dr Dre's Executive model. In an increasingly frantic world who can blame people for shutting out the world and keeping the music in.
I auditioned the MDR-1RNC, Sony's top-of-the-range noise cancelling model. These are handsome phones and the build is excellent. They are sleek, and exude a low-key sophistication. They're slightly heavier than my usual commuting phones (a trusty pair of Philips Downtown's) but I found them very comfortable.
Once plugged into my iPod (there's a detachable cord which plugs snugly into the left earphone bracing) I listened to half of Cannonball Adderley's Somethin' Else, while browsing the instruction manual, before I found the noise cancelling function. Activating this (via a small switch on the left ear piece) suddenly brought the music into focus, where previously the bass was too dominant and undefined, activating the noise cancelling tightened this up.
Literally it was like going from black-and-white to colour. That's the good news, the not-so-good is that whatever equalisation process is involved when the NC kicks in also pushed the higher frequencies, cymbals became distracting and splashy - especially on mp3s (which - let's be honest - is what most will listen to).
I think the culprit here is Sony's intent on pushing the 30-40Hz sub-bass region; whatever compensatory equalisation has been added to the higher frequencies has resulted in an unnatural sounding top end.
I switched to Kendrick Lamar's good kid m.A.A.d City album thinking that hip hop might suit these phones better than jazz or acoustic based music. It did. And it was here that the MDR-1RNC's really lived up to their hype of being an "immersive musical experience". True, after a few days of use the phones settled down a little but that harsh top end still bothered me.
By the way the noise cancelling - which switches on with an elevator-like bell when activated - is excellent, as good as I've heard, making these a great set of traveling headphones, especially for those whose go-to music consists of modern R'n'B and hip hop.
Sony MDR-1RB Classic - $445
Sony MDR-1RBT (Bluetooth Model) - $549
Sony MDR-1RNC (Noise Cancelling) - $599
Stars: 3.5/5