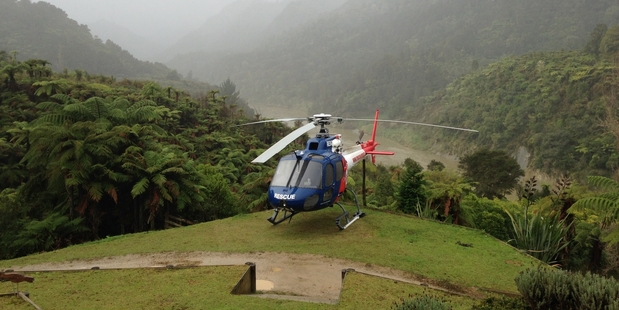 An Auckland man who fell 40 metres down a remote bluff into the Whanganui River on Thursday is lucky to be alive, his wife says.
John Reeve was in a stable condition yesterday morning in Wanganui Hospital's surgical ward, after falling in wet conditions.
Mr Reeve, his daughter and sister were taken upriver in a jetboat driven by Bridge to Nowhere Lodge owner Joe Adam to visit Tangahoe, a former Whanganui River farm.
Mr Reeve and his sister, aged in their late 60s or early 70s, were born at the remote farm.
Their uncle died there about 70 years ago by falling down a waterfall. He and his horse and dogs were never seen again, and a plaque was placed at the top of the waterfall, Mr Adam was told.
Mr Reeve wanted to pay his respects to his uncle, and the party of four walked up a "goat track'' to the top of a bluff about 50 metres above the river.
The fall occurred on the way down when Mr Reeve spotted a pair of sunglasses his sister had dropped on the way up. He bent over to pick them up.
Mr Adam, who was ahead of the others, heard a scream. He turned to see Mr Reeve lose his balance and fall over the edge. Thumps and cries were heard as he hit rocks on his way down.
Mr Adam raced down the hill and drove his jetboat to where he thought Mr Reeve had gone in. He saw splashing as Mr Reeve struggled toward shore and tried to claw his way up the steep bank in a cove.
Mr Adam threw him a rope and a life jacket to put on while he was in the water.
"The last thing I wanted was for him to disappear again.''
He was able to pull the injured man to shore and tie the rope to a tree. Then he went back up the hill for Mr Reeve's sister and daughter. They were a mess, shocked and shaken, he said.
The three of them managed to drag Mr Reeve into the jetboat and they headed back to Bridge to Nowhere Lodge, 8km downriver.
Mr Adam rang 111 by satellite phone and the Palmerston North Rescue Helicopter flew Mr Reeve and his sister to Wanganui Hospital.
He had suffered a broken ankle, suspected broken pelvis, wrenched back and a knock on the head, Mr Adam said. He could move his hands and feet, but couldn't walk.
Speaking from Auckland, Mr Reeve's wife Carol said he was "lucky to be alive''.
"To fall that far, someone must have been looking out for him. It's just incredible.''
He had insisted on being discharged from hospital yesterday, she said, which was "just what he's like''.
"He's amazing, he's a very strong man when he hurts himself. Nine times out of 10 he just gets up and keeps doing everything.''
He was born on the river, his wife said. His family had lived in the area, and he wanted to go back.
"He's always, I suppose, loved the river. I don't think this will ever stop him from going back either.''
- APNZ