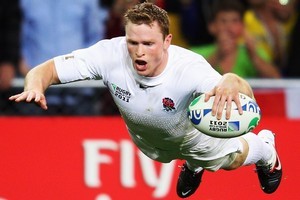 Sadly, this is the last time my blog will be written from Dunedin.
Over the last three weeks, Greg and I have experienced unbelievable hospitality from our student hosts.
So with great sadness we started our final weekend at the student digs on Friday. We had a nice quiet night of a relaxing game called beer-pong, a game I had never partaken in before.
Needless to say, I was convincingly the loser, and went to bed excited for the big England game.
Come Saturday and we organised a nice little pre-match visit to the Speights brewery in the centre of the city. After a rambling hour talking about hops and beer history we enjoyed our all-you-can-pour free samples of Speights' five premium beers.
It certainly got us in the mood for the rugby; we also had a spare ticket for the crunch tie, which we gave to our couch-surfing host Liam for free.
After all he did help us out all those months ago when trying to sort our accommodation for the pool games in Dunedin. It was the least we could have done.
England needed to silence the doubters over their World Cup credentials. After less than impressive victories against Argentina and Georgia, Martin Johnson's men needed to step it up if they wanted to give themselves a chance to win the World Cup.
England started well with fly half Johnny Wilkinson, who found his kicking form early with a first minute penalty.
The team didn't relent against an initially strong Romanian defence, and good work at the breakdown led to a try from Mark Cueto on the fifteenth minute. He went onto score a first half hat-trick in eleven minutes as England's wingers went on the rampage.
Cueto and Northampton Saints winger Chris Ashton both scored a hat-trick of tries, with the charismatic Ashton swan-diving on all three tries to the delight to travelling English fans. England went in 34-3 up at half time.
England didn't relent in the second half with midfield pairing of Mike Tindall and Manu Tuilagi looking dynamic against the Romanians. Tuilagi, who was particularly impressive breaking the defensive lines, capped off a strong performance with a try on the 61st minute.
Wilkinson made way for Toby Flood in the second half and continued kicking well, which leaves Johnson with a potential selection dilemma for the game against Scotland on Saturday.
The match finished 67-3 with England scoring ten tries overall. It will go someway to improving moral in the camp, especially after fresh allegations of Mike Tindall canoodling on that night out in Queenstown.
Bigger tests lie ahead, and with arguably the easier side of the draw you can certainly see England in the semi-finals.
After a brilliant match we watched the All Blacks convincingly beat France at our student digs. Again a result which will go someway to breaking the 24 years of hurt for AB fans, and big cheer also went up for Richie McCaw who looked great in his special silver 100th cap. Then we piled into town for one last time to celebrate our respective wins.
So after three memorable weeks with our scarfie mates we are onward to Auckland via Wellington. Let's hope we experience more of the same legendary Kiwi hospitality up in the North Island.
Follow Mitch's Rugby World Cup adventures around New Zealand on Twitter: @NotSweetChariot