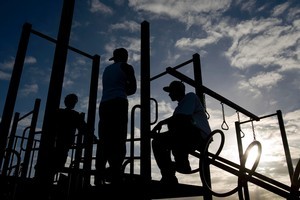 John Key would win a lot of Brownie points if he simply announced a high-powered Prime Minister's taskforce on youth employment.
At 19, I spent three months at Shacklock's factory in Dunedin chopping up steel rods into precisely measured lengths which would then be coiled into stove elements. It was a boring job which I made interesting through enjoying the camaraderie of fellow workers and competing against myself each day in trying to set a new steel-chopping record.
But it was a job.
Technological developments have put paid to many of the plentiful, relatively tedious but honest jobs that were around when I was a teenager.
It's pretty damn tough now.
We have record youth joblessness, growing youth crime and the highest suicide rate for young females in the OECD.
They are compelling problems that demand serious responses from our Government, our businesses and our communities.
But if the Key Government is deadly serious about reducing youth joblessness it has to get the whole country focused on the issue; not simply announce a programme that doesn't even start until next year - and leaves another six months for more young people to become dispirited.
At last weekend's National Party conference, Key unveiled a new youth welfare policy.
Young 16 and 17-year-old beneficiaries will get payment cards to enable them to get food and clothing from approved stores. The Government will also pay their rent and power bills directly and give the teens a residual allowance.
There were some good points to the overall package - more training placements, work-based learning and budgeting courses.
But what these young 16- and 17-year-old kids really want is a job.
And this new mollycoddling Government policy doesn't deliver that.
It's hard to credit why the Government intends to continue to pay young people not to work.
Surely, the Government could have explored paying an equivalent amount to what ultimately ends up being loaded on to young people's payment cards directly to employers as an incentive to them to give more 16- and 17-year-olds a chance to prove they can grow into capable employees.
It's not as if the Government hasn't done this sort of thing before. By the time Key came to power in late 2008, the global financial crisis was already impacting heavily on many of New Zealand's exporting companies.
Key announced a "rolling maul" programme to stimulate the economy and keep people in work.
He held a jobs summit in early 2009 after which his Government agreed to subsidise companies which had more than 50 employees to keep staff in work rather than sending them down the road.
Bridges were built between employers and unions which resulted in various measures like the nine-day fortnights which enabled many firms to cut costs and keep going.
It's not as if the Prime Minister couldn't just call the bosses of New Zealand's largest companies into the Beehive and set some clear expectations that they should provide more jobs and training for the young people who are our future.
Many New Zealand companies are once again producing strong profit results as they emerge from tough times with stronger revenues delivered by a slimmed down workforce. They are focused again on "delivering" for shareholders.
The bosses of Fletcher Building - and the other big construction firms - which have had a strong dose of corporate welfare through various Government infrastructure contracts; or Telecom - which has had a dreadful result but will score hugely through winning the major ultra-fast broadband contract - could be doing quite a lot more.
I don't want to pick on Fletchers or Telecom. All of our companies should be shocked by the alarming teenage unemployment levels outlined in Statistics New Zealand's latest figures which said that the rate for those aged 15 to 19 had risen to 27.6 per cent.
As the Herald's editorial pointed out, that is the highest number of unemployed youth since the Great Depression of the 1930s.
The Prime Minister disputes the figures in the Household Labour Force Survey.
He maintains 60 per cent of the young people that the survey counts as looking for work are at school or university.
But companies should not underestimate the seriousness of the situation. If these young people are not quickly socialised into work they are not going to make model employees later on.
Then there is the personal picture.
In the early 1990s - the last time New Zealand experienced record youth joblessness - Jim Bolger had the good sense to make employment a national priority (unemployment topped 10 per cent in late 1992).
After the November 1993 election Bolger invited all the political parties to form a group to develop a consensus on the creation of job opportunities.
That was far more useful than endless parliamentary bickering over the labour force survey.