Foodies get in behind helping kids to grow food then cook it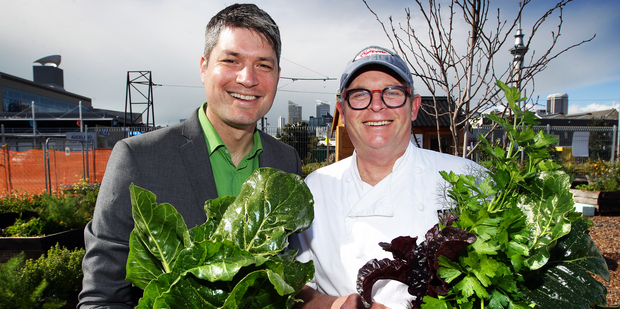 Top chefs are swinging into action to help educate kids who think potatoes are long yellow things from McDonald's.
Garden to Table operates in 20 primary schools throughout New Zealand and renowned chefs and television personalities are getting behind the programme at a fundraiser this month.
Comedian Jesse Mulligan, who will MC the event, wishes he'd had something like Garden to Table when he was at school. The former Seven Sharp presenter admits that he had to hire a "gardening coach" when he wanted to put his land to use.
"It's very middle-class, isn't it? Having a tutor for your garden. But like most people, you don't really care about this sort of thing until you've got your own home."
He has had limited success growing vegetables, but had a bumper crop of kale. "We have a green smoothie every morning so we get through bags and bags of the stuff."
Celebrity chef Al Brown began supporting Garden to Table after seeing the joy gardening brought his children.
"My daughter, when she was about 7, did the planting and about two weeks later she pulled everything out because she expected it all to be done - it had been in the ground long enough," he said.
"With kids, if they're involved in the preparation or the growing then they'll eat it because they have a connection with it, as opposed to if it's just put in front of them," Brown said.
He said he went to a Garden to Table session three weeks ago and was blown away. "Some of the kids who were usually troublemakers were actually really getting into it, doing something that they were good at and felt confident in."
Programme founder Catherine Bell said increasingly, children did not understand where their food came from.
"A lot of children have never had the opportunity to pick a fruit off a tree or a carrot from the ground," she said. "The thing that is most prevalent is their inability to recognise vegetables.
"There are many children who think that potatoes are just long, skinny golden things called chips," she said. Growing and cooking food also teaches children about science and maths, as well as sustainability and the environment.
The Garden to Table Trust's bi-annual gala fundraising dinner is at Auckland's Langham Hotel on August 23.