Address:
149 Point Chevalier Rd, Pt Chevalier
Phone:
(09) 845 2235
Rating out of 10:
Food: 7, Service: 8, Value: 7, Ambience: 6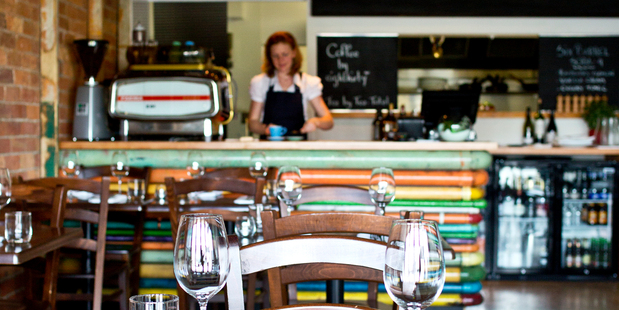 IIt's high time Pt Chevalier transformed its shops and restaurants to satisfy its relatively new, upwardly mobile urbanites.
The dowdy and depressing shopping "mall" will surely be bowled soon. And, thank goodness, here to help start the trend, is Twisted Tomato.
The restaurant, which started life as a cafe and now under-pitches itself as a "local eatery", has had a relatively inexpensive makeover. Every corner, from dining room to the loos out back, have been scrubbed spotless and repainted until the whole place feels fresh and welcoming.
Floors are the polished grey chip concrete so beloved by designers. The tables are basic, chairs comfy, the art, including the multi-coloured wooden bar, original and offbeat.
Run by the lovely Tamara and her German chef husband, Thomas, who comes via TriBeCa in Parnell where he worked under Hayden McMillan, the service and cuisine have a stylish, European flavour.
And the food? Well, that's their best-kept secret.
Both menu and wine list are short but beautifully pitched. We started with two glasses of the off-dry but aromatic Balancia pinot gris, plus a glass of Kumeu chardonnay, to accompany four of the five entrees on offer.
I was brought up on the glories of offal, so chose the crispy pigs' head torchon, which was a hit. The two, large, breaded and fried croquettes, or torchon, arrived garnished with a substantial salad alongside. When I cut into them they were just crispy enough with a tasty filling of pork meat that had been slow-cooked until it melted in my mouth. Lean and luscious, there were no tell-tale whiskers, teeth or bones to negotiate and the
serving was generous enough to share my entire second torchon with the others.
Mary's soup turned out to be an unusual stiff mix of corn and potato, which she assured us was delicious. Barry's scallops were smallish but surprisingly plentiful and perfectly cooked, and Brian's rabbit agnolotti was a knockout. The pasta had that unmistakable handmade softness; the rabbit filling was moist and tasty and the accompanying sauce finished it nicely.
By now the little eatery was full. We'd been warned on booking to get there before two large tables arrived at 7.30pm, so there was no hold-up with the food. Indeed, if anything, our main courses arrived a little too early.
Unfortunately, however, the combination of ceiling fans, background music, several high-spirited conversations and that cool-looking concrete floor made it almost impossible to hear each other. So instead we happily concentrated on the food.
Barry ordered the lamb rump, which arrived tender and delicious after a lengthy session in the sous vide. Mary chose the sirloin steak, which was hearty and reasonably tender. I had the more manageable duck leg, which, though not advertised as confit, was only one step away from that delectable taste, and Brian had the snapper. Panfried to moist perfection, it was served with an interesting combo of baked summer vegetables. Our side serving of green beans wasn't really necessary alongside such lavish helpings but we ate them anyway. Again, they were perfectly cooked to that point between crisp and flabby.
The service was outstanding, too. Our meals arrived with precision timing, Tamara, who treated us more like friends than customers, knew her wine list thoroughly and worked out what we wanted in seconds. She also apologised for not having any dairy-free options on the dessert menu; and also for seating us near the speakers when we were obviously past the bloom of youth.
There were four desserts on the blackboard. Both men had the chocolate mousse, Mary the mango parfait, which she said was rich and sinful without being overly sweet (and she ate every scrap). My poached stone fruit of nectarines and plums, came with a liberal topping of almond crunch.
For us, after months of shared, small-plate dining, Twisted Tomato was a blessed relief.
Sure, we swapped mouthfuls, but it was great to have our own private plates to tuck into.
It also made me realise that dining the old-fashioned European way means you end up getting more tucker for your buck.