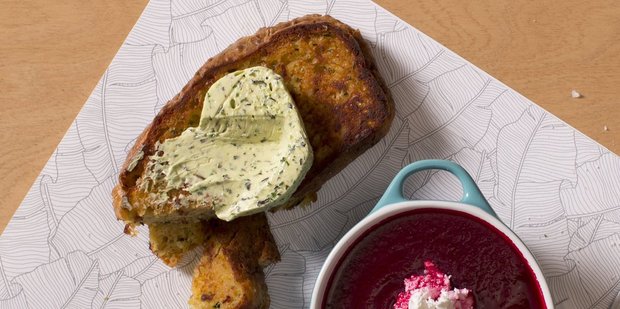 This bread is addictive. We serve it with a herbed butter at the shop, but it's also good with cream cheese, or topped with fried or scrambled eggs for breakfast.
• 3 strips thick cut bacon, chopped
• 1 ½ cups zucchini, grated, squeezed, and drained
• 1 ½ cups sharp cheddar cheese, grated
• 4 spring onions, ends trimmed and chopped
• 1 tbsp fresh thyme, chopped
• 1 ¾ cups plain flour
• 1 Tbsp baking powder
• ½ tsp salt
• ¼ tsp paprika
• 3 eggs
• ⅓ cup olive oil
• ⅓ cup milk


1. Preheat oven to 180 degrees. Prepare a 9 x 5-inch metal loaf pan with butter or olive oil.
2. Cook bacon in a large skillet over medium heat until browned. Drain on paper towels.
3. Combine bacon, zucchini, cheese, spring onions and thyme in a small bowl.
4. Whisk together flour, baking powder, salt and paprika in a mixing bowl. In another large mixing bowl combine eggs, oil, and milk.
5. Stir dry ingredients into wet until just combined. Fold in the bacon, zucchini and cheese mixture.
6. Smooth batter into the loaf pan and bake until a toothpick comes out clean, 55-60 minutes. Cool in the pan, 5 minutes, then turn on to a rack and let the bread cool completely.
7. To serve, slice thickly and toast in a sandwich press or dry frying pan. This will melt the cheese in the bread a bit, making it go golden and crispy on the outside.