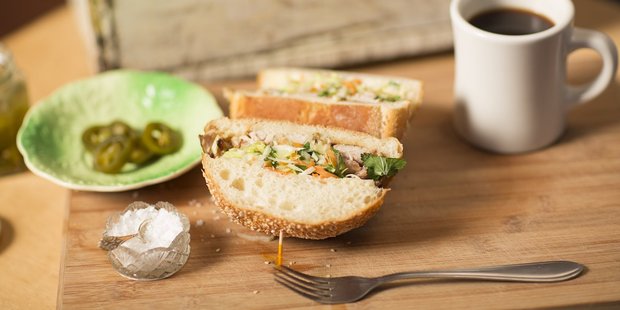 Serves 4
This is not your traditional bahn mi. We serve it on a burger bun instead of the traditional baguette. We make our own pate at the shop, but a good quality store-bought one will suffice. The ingredient list here is long, but many are Asian cupboard staples that you might have lying around.
• Mayonnaise
• 4 chicken thighs
• 4 burger buns or baguettes
• For the slaw
• ½ a white cabbage
• ¼ of a cucumber
• Small handful of mint and coriander (if you can get Vietnamese mint, use a bit of that too, it will take your sandwich to the next level), leaves picked and roughly chopped
• The zest and juice of one lime
• 1 tsp sesame oil
• 1 tsp fish sauce
For the pickle
• 2 carrots
• ½ a daikon
• 300ml rice wine vinegar
• 100g palm sugar
For the chicken marinade
• 3 cloves of garlic
• One thumb size piece of ginger
• 2 stalks of lemongrass
• 1 red chilli


For the chicken
1. In a food processor, blend garlic, ginger, lemongrass and red chilli, add a neutral oil to form a paste. Toss chicken thighs to coat and marinate for at least an hour or overnight.
2. Season then sear the chicken on a medium heat until lightly browned. Transfer to a 180 degree oven for 15 minutes to complete the cooking. Cool and slice.
For the pickle
1. Heat the rice vinegar with 500ml of water, palm sugar and 2 tsp of salt until the sugar dissolves. Allow to cool.
2. Use a mandolin or sharp knife to peel and julienne the carrot and daikon. Salt it and leave to drain for an hour one hour. Rinse excess salt from vegetables.
3. Add vinegar mixture to the vegetables and store in a container until ready to use.
For the slaw
1. Shred cabbage and slice cucumber thinly. Add herbs, lime, sesame oil and fish sauce.
2. Add some of the pickled vegetables and a little bit of their liquid and toss everything together.
To serve
1. Lightly toast bread.
2. Spread both sides with mayonnaise and pate.
3. Add a layer of sliced chicken and top with the slaw, serve immediately.