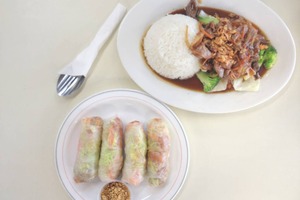 Last month Central Auckland's dirtiest eating establishments were named.
Food grades in the former Auckland City region show 10 restaurants and cafes have received E grades, with 29 given a D grade.
The New Zealand Herald online asked readers if they were influenced by the food grading system. Nearly 13,500 readers responded and just over half said they used the rating to make a call about whether to dine there. Or not.
But to the every day diner, how do these places really stack up?
A few brave members of the online team have decided to put their bellies on the line and review all 29 of the D listers, revealing one a day for the month of September. D grade eateries are reviewed twice a year, according to Auckland City Council. While they are subject to change, our list is correct as of the last week of August, 2013.
If the grade is changed at the time of publication this will be made clear in the review.
So join us on our journey eating through the D list. Check in at lunch each day, read our review, and let us know in the poll if you have - or would - eat at the outlet.
Saigon, Food Alley, Albert St, Auckland
What we ordered: Fresh spring rolls stuffed with prawn, chicken, rice noodles and vegetables (4 for $10) and hot and spicy beef on rice ($12). This was one of our favourite of the Food Alley eateries. We didn't go for the usual pho this time but were happy with the level of heat in the flavoursome beef dish. The rice paper rolls with peanut dipping sauce were delightfully sticky. However, one of our diners found them too slimy.
The vibe was: It's the inner-city's favourite food court, Food Alley. It's bustling with business suits and the birds are flapping around trying to find their way out. It's not the nicest of locations, but a table upstairs offers some natural light and a bit of peace.
The décor looked: Clean, mostly. Once again, it's Food Alley.
The service was: Fast and full of smiles.
We left feeling: Full and content.
We could see their D grade: Wasn't on display. There was a B certificate on display due to expire. We asked them about this and they explained something about a dodgy dishwasher that caused a low grade, but they were waiting for a second inspection. The lady who seemed to be in charge of the Vietnamese eatery told us she was running a second place in the popular Ponsonby Central. She initially claimed her latest grade was a B, but then corrected herself to a C and finally decided to admit the D.
The most D-grade thing about it: The food preparation area looked a little shambolic.
We'd go back: Because every now and again a meal at Food Alley tastes so good.