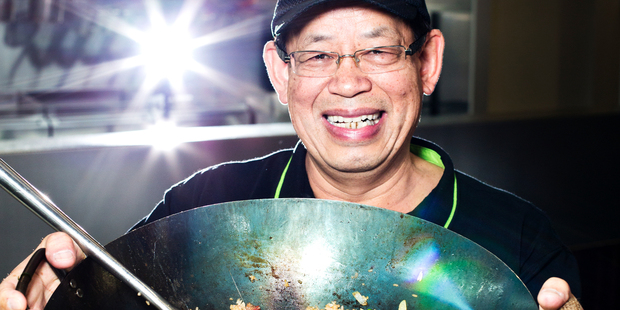 You could say Norman Ah Num and I have been in the takeaway business for as long as each other - me eating, him cooking.
Forty years ago his mum migrated from China to New Zealand and set up a takeaway shop on the corner of Market and Great South Roads in Remuera. Her Kiwi take on Chinese favourites - fried rice, sweet-and-sour pork, lemon chicken, chow mein - was such a hit that soon the whole family, including a young Norman, were called in to help.
Norman eventually took over when his mum retired and he, in turn, asked his daughters to pitch in, along with a team of chefs who continue to use his mother's original recipes to this day.
Recently they've upped sticks and moved to Eden Terrace where they've opened Bamboo Kitchen, a fresh new space. "It was time for a change you know, we wanted to bring our food to a new area of customers. But the recipes stay the same."
When I was growing up, takeaways were always a treat and we had two choices - Chinese or fish and chips. Now the choice is endless but there's something deeply comforting about an old-school, Kiwi-Chinese favourite done well and Norman sure knows how to do that.
We can recommend the steak hor fun at $15 or seafood special fried rice at $18.50.Outstanding.
Bamboo Kitchen, 15 Mt Eden Rd, Eden Terrace, ph (09) 368 1198 or bambookitchen.co.nz
- VIVA