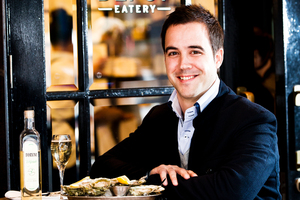 When does a vinegar become a luxurious, sought-after ingredient? When a world-famous chef injects it into chocolates and when the Nobel Peace Prize Awards dinner menu features it by name, that's when. We caught up with Albert Roca of Spain's speciality vinegar producer, Forum, when he visited Auckland, to find out what makes his family's vinegar so special that chef Ferran Adria used it to fill chocolates at his former restaurant, elBulli.
If you're a fan of Depot's shucked oysters you'll have dipped them in the smooth, almost sweet, chardonnay vinegar, or if you've dined at The Grove, Merediths or The Grill lately chances are you've sampled the magical small-batch cabernet sauvignon vinegars from this family-run vineyard in Penedes, northern Spain.
"You have to start with good quality grapes," explains Roca as he administers droplets of each vinegar on my hand for me to taste. "The story of our vinegar started by a happy accident. My parents bought a piece of land in 1983, where they began to produce wine for pleasure, for themselves and their friends. But the grapes from the first vintages were too young to produce complex wines, so they stored part of this wine in oak barrels.
After some years this wine was acetified, so our first cabernet sauvignon vinegar was made. The process was completely unplanned and natural but the result was extraordinary." I couldn't agree more after tasting the sweet and honeyed chardonnay vinegar, the wildly fruity merlot, then a cabernet sauvignon vinegar, aged for eight years and full of chocolate and toffee tones. Finally I tried the Flavivs reserve made using their 20-year-old initial reserves and aged in stone huts scattered among the vines to ensure maximum oxidation. Its flavour was deep and rich but again unimaginably smooth.
Roca shows me images of exquisite dishes produced by Michelin-starred chefs around the world, all of which have these vinegars as a secret ingredient. "Last night I dined at The Grill [in Federal St] and ordered the duck terrine. Even though I wasn't aware they were using our products, I immediately knew that the reduction was Forum vinegar," he says. "I could just taste that it came from our land. I can't explain the deep feeling I have when I visit countries so far from my own and find chefs using our vinegars in their dishes. I am so proud."
• Forum vinegar available from Sabato, 57 Normanby Rd, Mt Eden, ph (09) 630 8751 or sabato.co.nz
- VIVA