Address:
Ponsonby Central, 4 Brown St, Ponsonby
Phone:
(09) 378 0119
Cuisine:
Argentinian barbecue
Rating:
7.5/10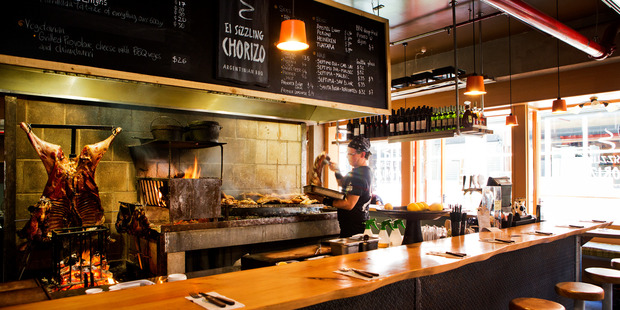 Alas, the outdoor barbecue season looks to be over. I'm always overcome with a mild sense of grief, until I remember to seek the fire within, that is to say to start frequenting the places in our city where the cooking happens indoors over an open fire, in all weather.
Since Ponsonby Central opened in November last year, there's one eatery within its confines that has been smokin' hot from day one: El Sizzling Chorizo. It's an Argentinian barbecue house, and anyone who has been within a 100m radius will be familiar with the tempting aroma of meat cooking over their large open barbecue.
We managed to beat the dinner rush by mere minutes to secure three stools at the counter, where we settled in to bask in the warmth radiating from the pile of glowing embers. The aroma and sizzling of meat cooking drove us wild, and we were kept entertained by the convivial banter between the duo of Spanish-speaking, bandanna-wearing fire masters. Their job is a hot one and they keep well on top of raking the bed of glowing charcoal and arranging and rearranging the different hunks of meat to ensure each is cooked to succulent perfection.
To take care of our out-of-control salivation, we ordered some of the house-made chorizo, empanadas and barbecue potatoes to see us through before our mains were ready. We wolfed down the chorizo and revelled in their dry, crumbly texture packed with the flavours of wine, garlic, onions and smoke from the fire. Tender, buttery pastry encased the empanadas' soft filling of rich smoky meat, and the dish of potatoes was taken up a notch with a topping of mustard and flaked almonds, which was delightful.
Watching the maestros hauling the meat from the fire, sending sparks flying, then expertly carving it up in front of us was a form of torture, and it was all I could do to resist reaching over the counter to grab the stray morsels of crispiness that were escaping the chopping board. Others waiting behind us for a by now much-coveted counter seat reminded me of a pack of salivating dogs and I knew we looked the same.
When our respective wooden boards appeared, piled with short rib for me and sirloin and lamb for my respective dining pals, our grins widened and we may have drooled. Along with the meat, therewas a decent bunch of salad greens and a dish of dark green oily chimichurri (the traditional herb, garlic and vinegar sauce) that when draped over the still-sizzling grilled meat made it taste as though ithad been dragged through a herb garden. Divine.
My short rib was a tasty 300g-400g worth, juicy and chewy, with the caramelised beef clinging to the bone. The thick, stout cut of the sirloin was softer and milder in flavour, as you'd expect, but brilliantly rosy in the centre, its rim of creamy fatits crowning glory.
The lamb, oh the lamb. We watched it being plated up and marvelled at the sheets of crispy salted skin, the way the chefs squeezed fresh lemon juice over the tender, falling-from-the-bone meat once it was off the grill, and how the whole beast is used, from neck to tail. We got lucky with a generous portion of leg meat and neck bones, which we proceeded to suck clean - they were that good.
Providing the sight of the meat isn't too gruesome for them, vegetarians are catered for too at El Sizzling Chorizo, with an offering of a massive wedge of provolone cheese, grilled in a skillet nestled in the embers until it's caramelised and oozing, then piled on a board with grilled aubergine, beets and onions, plus a handful of fresh rocket leaves, and served with flatbread. It looked magnificent.
For such a basic set-up - basically a barbecue, counter seating and a tiny kitchen out the back - there's nothing haphazard about the service at El Sizzling Chorizo.Water glasses are filled, finger bowls are offered if you've picked up the bones to gnaw the last of the tastiness, and dessert options are spelled out for those who still have room (they don't serve pudding here but are happy to recommend places nearby that do).
As we soaked up the warmth of El Sizzling Chorizo - from the fire, the food and the staff - I had only one thought: Who cares about summer when you can snuggle into places like this and leave feeling so satiated?

From the menu: Barbecue potatoes $7, empanadas $10, chorizo $10, short rib $17, sirloin $20, lamb $30
Drinks: Beer and wine
- VIVA