Address:
133 Franklin Rd, Freemans Bay
Phone:
(09) 378 9104
Rating out of 10:
Food: 8, Service: 7, Value: 8, Ambience: 8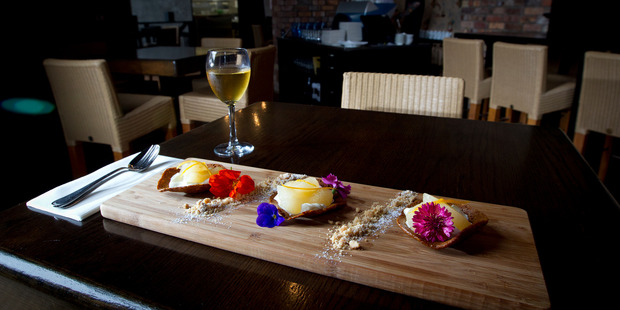 The Birdcage had been open only four weeks when we visited, after a few years of shuffling up and down Franklin Rd and an extensive refit. And it's a good one.
Gone are the English pub fittings, reportedly imported from Bristol, although some of the old mirrors and sideboards remain. The rest is exposed brick and huge black wrought iron chandeliers in an open-plan layout, with plenty of seating and leaners for the drinkers. It behoves the staff to keep an eye on punters in the hidden corners, though, as they are in danger of becoming the forgotten.
The menu is brief. There are small shared plates of such things as olives and pickles, kumara fries, onion rings, squid, mussels, frittata, green beans, duck fat potatoes and more. The shared boards offer variations on lamb, chicken, Asian, seafood and pork, with a vegetarian option - and there is pizza to eat in or take away.
We settled on the lemon salted squid with palm sugar, chilli and coriander. Damn fine it was, too, the squid so tender it was creamy and well complemented by the spices and herbs.
The Coromandel mussels with sweet chilli and lemon were so good that even I was tempted and mussels are not usually one of my bivalve choices.
The small plate offerings are generous, and so are the shared boards, to the point where we were scrambling for room on the table, as everything arrived at the same time. It made us look as if we hadn't eaten for weeks, but we made a pretty good job of clearing most of it.
The meat-lovers' board contained a very good spicy chorizo, pork spare ribs flavoured with cloves, exceptionally hot onion rings (chef Pablo Birocchi, from Brazil, really knows his spices) and a very good medium-rare scotch fillet.
Full but not defeated, we decided a dessert could be managed if shared. The brandy snaps arrived as three small baskets, generously filled with cream and poached pears. The slightly burnt sugar flavour of the baskets offset the delicate pears.
Staggering out into the evening, we agreed that the Birdcage, in its new incarnation, should be welcomed back into the fold by as many people as possible.

Our meal: $151.50 for two small plates, a shared board, one dessert, two beers and two glasses of wine.
Wine list: Comprehensive and varied, with a good beer list. The Coal Pit sauvignon blanc from Central Otago was unusual but pretty good, although the Mt Nelson from Marlborough was better. Bill's beer selection of a Moa pilsner and a glass of Urquell pilsner from the Czech Republic were excellent.
Verdict: Again, it's a bar and bistro, but this time the food was right up to scratch, as it should be from the former owners of Iguacu. The service was a bit haphazard, but I'm sure time will take care of that.