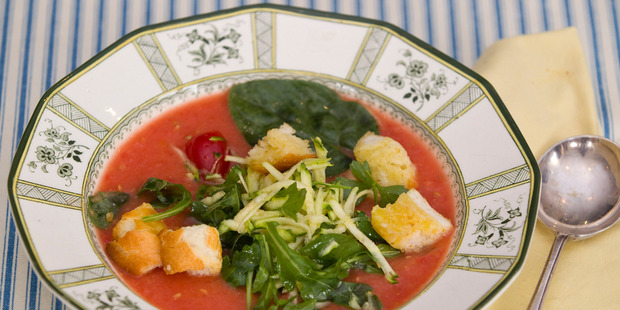 1. Grate large, fully ripe tomatoes to remove the skin. Place in a food processor.
2. With the food processor running, stream in a good oil of your choice to achieve a soupy consistency.
3. You could add half a red chilli, with the seeds removed, for a bit of heat. Pour the mixture into
a container and chill.
4. Grate some courgettes.
5. Chop rocket, green leaves and any herbs you choose.
6. Cube some stale bread and turn these into croutons by drizzling them with oil and adding crushed garlic. Season with salt and pepper and toast in a medium oven, drain on paper towels and allow to cool.
7. Portion out the tomato base into bowls.
8. Top with the courgette, leaves and herbs. Add the croutons and, as a final flourish, drizzle a fruity olive oil across the lot.