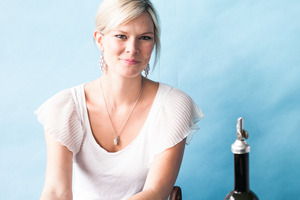 We're chatting live with Chelsea Winter on Friday April 5 from 12-1pm. Enter your question for the MasterChef New Zealand winner below for your chance to win a signed copy of her new book, At My Table.
We're in the throes of crowning a new Kiwi MasterChef, but remember last year's winner, the young blonde Waikato cook, Chelsea Winter? Well she's been practicing all her favourite hearty dishes and compiled the best in a new book, At My Table.
"It's been a long time coming," Chelsea says from her Auckland home.
"I usually just cook from my head so I didn't actually have anything written down. So to suddenly have to write 90 or so recipes was a little bit of a daunting task.
"I just sat down and came up with a long list of foods I love to eat and I just made sure all bases were covered - all the proteins, sweet things, all different kinds of meals - and that was actually all I did."
(Check out Chelsea's signature dish - buffalo chicken wings with blue cheese sauce. She reckons it's best eaten "on the deck with a few beers and a game of cards on the side.")
After prepping the recipes in her small kitchen at home, the mouth-watering images for the book were shot in September and the whole thing will finally be released this Friday. I love my food porn. Flipping through books, trawling around blogs, watching Food TV, I love looking at the stuff. Since getting a sneaky peak through At My Table I've already dog-eared a bunch of goodies I can't wait to cook up. Prawn, lemon, pea and chili spaghetti; slow-cooked lamb shanks; and a vegetarian favourite eggplant parmigiana are at the top of my to-do list. Each dish comes with a little story about how it made the cut for Chelsea's debut recipe book and the recipes look delicious, but not daunting.
The 28-year-old former marketing executive has plunged herself deep in to the culinary world. She's continually brainstorming recipes for her website - where she refers to herself as the "blonde kitchen ninja" - and is regularly popping up for cooking spots on the box. She's the face of a Kim Crawford wine range and will be announcing another top secret partnership in the next few days.
Chelsea says she didn't know if anything was going to come from her entry into season three of MasterChef last year, but she hopes that her success can continue for ever.
"I was absolutely thrilled that there was something always in the pipeline and I have just been able to immerse myself in the food world as a job," she says.
"The great thing about the food is that it never ends. People are always going to need it and love cooking it and love eating it."
At My Table, by Chelsea Winter, published by Random House, is released on April 5. RRP $55.
Follow Life & Style Editor Nicky Park on Twitter and Instagram.
This competition is now closed.