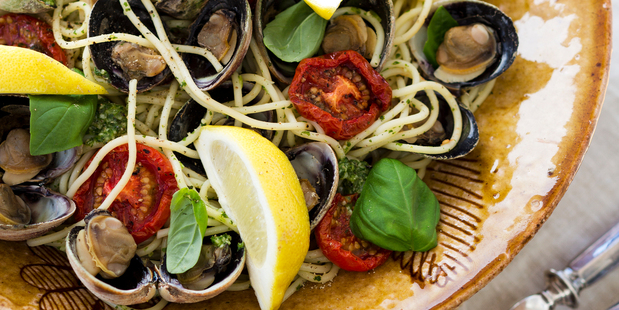 Serves 4
• 200g spaghetti
• 1kg cockles
• 500ml white wine
• bunch fresh herbs, stalks included
• ¼ cup olive oil
• 4 cloves garlic
• 1 red chilli, chopped
• zest of 1 lemon
• 1 cup semi-dried tomatoes, homemade or bought
• ¼ cup salsa verde
• lemon wedges to serve
Salsa Verde
• 1 cup watercress
• 1 cup parsley
• ½ cup grated parmesan
• ¼ cup olive oil
• 2 cloves garlic
• juice of ½ lemon
• salt and freshly ground pepper, to taste
Place all ingredients into a blender and blitz until well combined.

1. Cook spaghetti as per packet instructions.
2. In a large pot with lid on, heat wine and herbs, until boiling.
3. Add cockles and steam for a few minutes until shells are all open.
Give pot a shake after a couple of minutes. Strain, reserving liquid when they all open.
4. While cockles are cooking, heat oil in a large frying pan, add garlic and chilli and cook until fragrant, 4 or 5 minutes.
5. Toss spaghetti into frying pan stirring to coat with flavour. Add cockles, sundried tomatoes, and salsa verde and cup of liquid from the cockles' pot. Place into a serving bowl and add the fresh herbs.
6. Serve with plenty of freshly ground pepper and lemon wedges.

- VIVA