Each week, Wendyl Nissen takes a packaged food item and decodes what the label tells you about its contents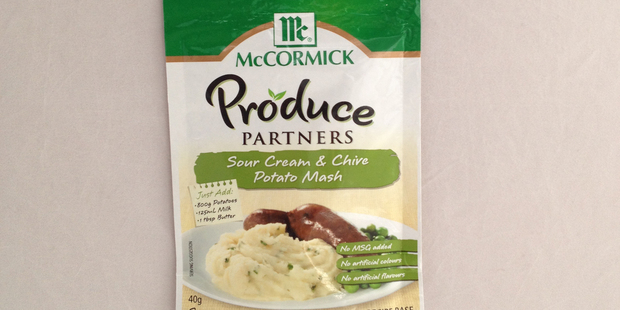 McCormick Produce Partners Sour Cream & Chive Potato Mash - $1.89 for 40g
I found this sachet in a little basket among the potatoes at my supermarket. The name "Produce Partners" refers to the fact that you can mix this sachet of powder in with your mashed potatoes to get a sour cream and chive potato mash. "Just add: 800g potatoes, 125ml milk, 1 tbsp butter" it says on the packet.
Surely, I thought to myself, I could also just add a dollop of sour cream and a sprinkling of chives and achieve the same thing.

Ingredients (in order of greatest quantity first)
• Maltodextrin - This is a form of sugar obtained by hydrolysis of the starches maltol and dextrin. It provides a sweet taste in processed foods.
• Beverage whitener [Vegetable fat, glucose syrup solids, milk protein, emulsifiers (471,472e), mineral salts (340,451), riboflavin, anti-caking agent (554) - This is basically a liquid that emulates creamy milk by using oil and milk protein. In the US, people often use this substance instead of milk or cream in their coffee. Also in this product are the emulsifiers mono and diglycerides of fatty acids (471) and fatty acid esters of glycerol (472e) as well as mineral salts potassium phosphate (340) and diphosphate (451). Riboflavin is a vitamin B2 often used in processed foods as a food colour. And there is the anti-caking agent sodium alumina-silicate (554).
So we have nine ingredients imitating milk.
• Sour Cream powder [(17 per cent)(milk solids, food acids (270, 330), culture)] - Milk solids are left over when you take the water out of milk. The food acids in here are lactic acid (270) and citric acid (330). The ingredient culture is interesting as technically a culture is alive, as in a yoghurt or real sour cream and would surely be not up to much in a powder such as this.
• Salt - Quite a lot of salt in here, one 10g serve of this powder will give you 677mg of sodium.
• Potato starch - Presumably this is in here to help thicken the mashed potatoes when you stir in this sachet.
• Dextrose - This is another name for corn syrup, a sweet syrup prepared from cornstarch.
• Yeast extract - This will be in here to provide a meaty flavour.
• Sugar - For flavouring.
• Onion - For flavouring.
• Chives (1 per cent) - For flavouring.
• Soy bean oil
• Food acid (malic) - This is found naturally in fruits and has a strong acid taste.
• Spice flavour - It says on the packet that there are no artificial flavours in this packet so I have to assume this is a natural flavour even though it is not labelled as such.

My recommendations
If I want my mashed potatoes to taste like sour cream and chives I'll just add sour cream and chives, not the 25 additives found in this packet. Yes, there is sour cream powder in here but it makes up just 17 per cent of the 40g packet or 6.8g.
However, I don't want to add beverage whitener to my already white and nicely mashed potatoes, nor do I want to add flavour, colour and the many other ingredients it takes to keep this powder from caking, to keep it dry and mixed together and to preserve it.
Instead invest in some real sour cream (125g for $1.59) and dried chives ($2.24 for 5g) and you'll have enough to make two meals of sour cream and chive potato mash and it'll only cost you 5 cents more than buying two sachets of this product.
It's not like you even have to do much to them, just throw them in.

Highlights
• Takes 25 ingredients to imitate two ingredients: a dollop of sour cream and chives.
• No artificial colours, flavours or MSG.
• Quite high in salt at 677mg per 10g serve of powder.

Do you have a food product you would like us feature?
Email wendylwantstoknow@gmail.com with suggestions. Unfortunately Wendyl cannot correspond with readers.