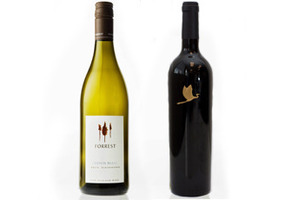 Most of us know what we like and like what we know, and why not?
There's nothing worse than parting with money for a wine we have taken a punt on, and then finding it's not to our taste. Not only is it money down the drain, but often it's closely followed by the wine itself.
The courage to take risks doesn't come easily to most Kiwis. Essentially conservative types, we tend to stay with the tried and true.
When it comes to wine, that's a shame, because there are some lovely taste experiences on the shelf that are worthy of our attention and should be sought out, but we're put off by names we don't recognise.
When was the last time you opened a bottle of dolcetto, cabernet franc, montepulciano, sangiovese, chambourcin or nebbiolo?
And when it comes to whites, there's always albarino, chenin blanc, marsanne, verdelho or gruner veltliner.
All these wine styles are being produced, although often in tiny volumes, in New Zealand.
It's true that some are still in the early experimental stage and though they may do exceedingly well in the countries where the vines originate, they've yet to hit their straps here.
However, there are varietals in certain areas that are being cultivated locally with considerable success, and they deserve our attention and support, not just because they're a change from the usual, but because they're beautiful wines that allow us to see beyond our current limited range - and we owe it to our palates to experiment.
What usually drives New Zealand winemakers to try, or persist with, styles that can be fragile and potentially hard to market is a mystery.
Often it's something along the lines of, "we wanted a challenge", or "tired and bored with making the usual and competing in a cluttered market" but invariably the prime reason is that they have been seduced by discovering and drinking a different varietal in a faraway country and have a vision of producing it back home.
Such commitment and perseverance is in many cases now being rewarded, and these different wines are finding a discerning cult following.
Chenin blanc has always been a favourite of mine, and is ideal with fish dishes and salads.
My fondness for Italian reds is based on their approachability and complexity - a bit like Italians themselves.

Recommended
2010 Forrest Chenin Blanc - $28
Doctor John makes a number of haunting white wines from his Marlborough base and this is one of his best. With a nod to France's Loire Valley, this is made in a classic style, is full-bodied, rich and creamy, with quince, apple and citrus flavours.
2010 Herons Flight Dolcetto - $60 cellar door
This small family-owned Matakana vineyard has been growing Italian wine grapes
like this since 1994. This is from a
fabulous vintage resulting in a more robust, full-bodied style of the varietal, with rich, ripe tannins and deep-red fruit flavours. Ideal with pasta, pizza and paella.