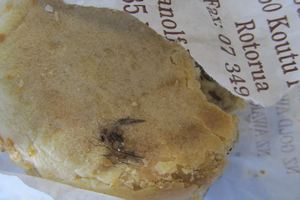 An unpleasant surprise on a pie from a Rotorua bakery has prompted a reminder for food operators to keep doors closed to keep out vermin.
Rotorua's Loressa Farrell-Takimoana bought a chicken and mushroom pie from Owhata Bakery in the Owhata Shopping Centre last Friday morning.
She had eaten about a quarter, pulling down the packet as she ate, when she glanced down and noticed something stuck to the base of the pie.
She believes the object was a feather, though the bakery disputes this and says the item may have been a bristle from a brush.
"They looked like bird feathers," she said.
"I reckon if I had eaten another bite I would have eaten it."
Her brother took the pie back to the bakery, where staff offered them another pie and their money back. They declined both.
Miss Farrell-Takimoana, who is six months' pregnant, said she had found a fly stuck to the base of a pie from the bakery last year and had only recently started buying pies there again.
This time she decided enough was enough and headed into town to show the pie to The Daily Post and food safety staff at the Rotorua District Council.
"I was sick twice between leaving and getting to The Daily Post," she said.
The council's principal environmental health officer Allan Culpan said he couldn't say 100 per cent what the feather-like object was.
"But I got my magnifying glass out and it looked like a down feather, probably a sparrow," he said. "It could have just come in with the wind."
Mr Culpan said an officer was sent to the bakery straight away on Friday to inspect the premises but there was no evidence of birds getting in and the back door was closed.
"The premises are satisfactorily clean in the process areas," he said. "There are no major hygiene concerns around this incident which happens from time to time. Officers will pay a visit back there to make sure."
Mr Culpan said it was a reminder to all food premises to be vigilant, especially in the hot weather. "I suppose you could say it's a wake up call for all operators that if they have doors open when it's hot or when loading in or out, vermin will get in," he said.
"In this weather there's vermin - flies, sparrows, mice - starting to come in."
Owhata Bakery owner Mark Lam said he was sorry about the incident and would be reviewing hygiene in the bakery. However he said staff tried to be hygienic and kept the premises as clean as possible.
Mr Lam said he thought the "feathers" might have been bristle off a brush used to brush non-stick oil on the tin the pies were cooked in. He said he would change the brushes he used and look to use better quality ones so bristles would not come off.
For more articles from this region, go to Rotorua Daily Post