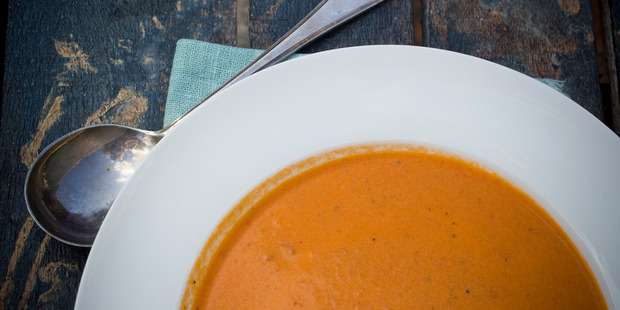 No one seems to home-make tomato soup these days. This base is pretty simple and can be frozen, reheated and cream added before serving. Make a big batch.
I used a mixture of tomatoes, just make sure they are ripe and fleshy.
Makes enough for 8 generous bowls.
1. Melt 2 tablespoons of butter in a heavy-based pan and soften a thinly sliced medium onion and 2 crushed cloves of garlic. Add a good bunch of thyme sprigs. Cook gently until the onion is clear but not coloured.
2. Turn up the heat and add half a cup of tomato paste.
3. Keep cooking and stirring until the paste starts to caramelise, about 5 minutes.
4. Turn down the heat and add 2kg of chopped fresh tomatoes, 2 teaspoons of brown sugar or honey and 6 cups of water.
5. Simmer until the soup has reduced by about a third.
6. Remove the soup from the heat, cool, take out the thyme sprigs and puree in batches.
7. Season well with salt and pepper and a little more sugar.
At this stage you could freeze the soup to use later.
To serve, warm the soup and add a quarter of a cup of cream. Simmer for 10 minutes or so to meld all the flavours.