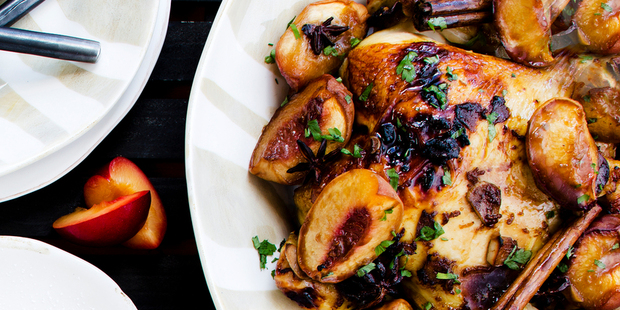 Serves 4
• 1 chicken, split, backbone removed
• ¼ cup soy sauce
• 2 Tbs honey
• 4 cloves garlic, sliced
• ½ cup chicken stock
• ¼ cup cider vinegar
• 1 Tbs grated ginger
• 2 cinnamon sticks
• 4 star anise
• 4 peaches, halved stones removed

1. Preheat an oven to 200C. Place the chicken on baking paper in an ovenproof tray.
2. In a small bowl mix the soy, honey, garlic, stock, vinegar and ginger. Pour over the chicken, and top with cinnamon and star anise.
3. Place the peaches around the chicken, and spoon over some sauce.
4. Place in the oven for 35-40 minutes or until tender and browned. Baste the chicken 2-3 times during cooking.