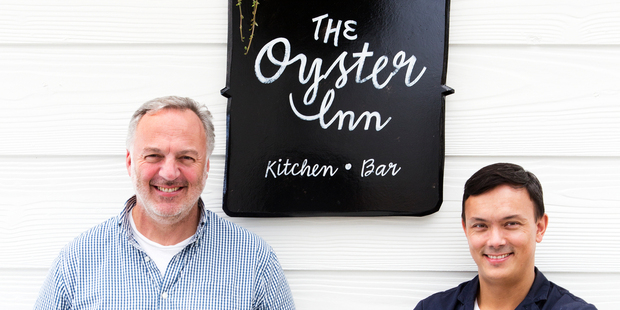 "It's been this busy since we opened and we haven't done any advertising yet."
I laughed. "Jonathan, I don't think you need to, every second magazine I pick up has been singing the praises of the Oyster Inn!"
"Yes, it's getting a bit embarrassing," he confessed.
What is it about this place that has food writers fizzing, restaurant reviewers raving and style meisters swooning?
Well, now I've been there, I get it. Ralph Lauren has landed in main street Oneroa on Waiheke Island.
Taking colours from a cartographer's palette, the room is airy, cool and whitewashed. A perfect pale aqua has been used on the bar and table tops. Indigo pillows cushion the bench seating.
Deceptively simple, the space is relaxed and immediately comfortable.
The menu, printed on paper bag brown, is foodie enough to satisfy the "know it alls" but totally understandable for Joe Public.
The continuous arrival and departure of guests sets the place abuzz. When you tire of the people watching, gaze out to the sparkling ocean.
Jonathan and Andrew orchestrate their young crew with a calm confidence, and make you feel looked after.
Despite a few nit picking comments I've heard, to my mind this operation is pitch perfect.
Nothing is haphazard at The Oyster Inn, and knowing this pair, that should come as no surprise. Jonathan Rutherford Best and Andrew Glen have a ton of experience to draw from, and understand about having all the details in sync.
Trust me, this place will settle in and become a Waiheke institution.
I'm not going to talk about the Oyster Inn's menu, our restaurant reviewer Peter Calder has already done that, but I did ask chef Christian Hossack (formerly of Peter Gordon's Providores restaurant in London) for some simple ideas for home cooks.
These recipes are straightforward, all of them can be made in advance to some extent, and are reasonably stress free. They just need the finishing steps on the day, which will make you look like quite the cook!
I like to cook at home on charcoal. The flavour is unique, and the outside mess minimal.
I asked Christian for a cherry substitute for the fool, given the cherry season is nearly done.
"The great thing about doing a fool is that you can use fruit that's in season and perhaps slightly over ripe. Stew it down, fold it in, happy days," says Christian. "Berries are always good and are always available frozen. Feijoa season is right upon us and after 10 years in the UK, where people likened feijoas to a bowl of chunky perfume, it is with unrestrained eagerness I look forward to getting stuck into feijoa everything."
The Oyster Inn: 124 Ocean View Rd, Oneroa, Waiheke Island. Phone: (09) 372 2222. theoysterinn.co.nz

Recipes:
• Oysters Rockefeller
• Lamb Shoulder and Lentil Salad
• Broad Bean, Pea and Mint Bruschetta
• Cherry Fool with Vanilla Shortbread