Transform the humble courgette into seriously tasty dishes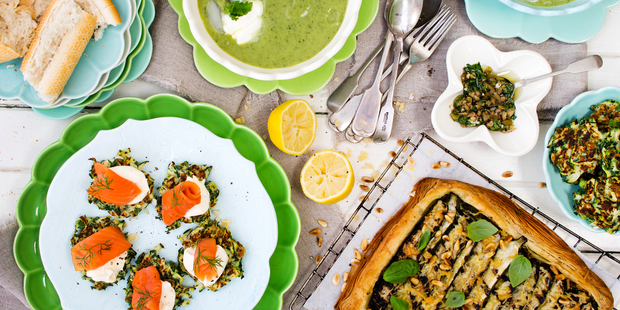 All those gardeners out there who sprinkled courgette seeds into their vegetable patch back in October will now be reaping their rewards. No doubt, in abundance.
If there is one vegetable that is virtually foolproof, it is this. One plant can produce countless courgettes and they grow at an alarming rate - which means they are a bargain at the supermarket right now as well.
Thankfully these green, glossy vegetables are wonderfully versatile: from the young ones with flowers that can be stuffed, through to those which have been missed among the greenery in the garden and turned into large marrows. These will need a little more cooking and are best added to the soup pot or stuffed with spicy mince and baked in the oven. Yum.
I use courgettes in everything from Mediterranean dishes and ratatouille to vegetable kebabs, salads, and fritters. For a simple lunch dish, chop up courgettes with other summer vegetables, garlic and tomatoes, slow roast with olive oil, and then serve with parmesan or goat's cheese, fresh basil and salad leaves.
Courgettes have a high water content, so when using them in fritters, frittatas or dressings, grate them and squeeze the excess water out in a clean tea towel. You will be surprised how much water is extracted, and your final dish will have more flavour. Always add a little salt just before cooking as this also helps to draw the liquid out. Personally, I don't like to mess with courgettes too much, as the original flavour is unique and subtle.
When choosing which herb to put with the courgettes, the options are endless. They lend themselves to woody herbs - think thyme and rosemary - through to the softer, more delicate herbs such as dill and chervil.
Make the fritters, shown here, and serve them cold with a topping of salmon and chives. These make for a tasty canape with drinks, or can be made slightly bigger to serve as an entree.
The courgette soup can be served chilled for summer, but is equally delicious served hot. If you have a glut of courgettes, make big pots of soup and freeze for winter. Simply add a little chilli for a warming kick. In our house, however, it very rarely makes it to the freezer.
Finally, I love today's courgette tart - it always looks impressive. With a light pastry, slightly roasted courgettes, a touch of parmesan and olives, it's also delicious.
For a finishing touch, sprinkle with roasted pinenuts and serve with a fresh green salad.
Recipes:
• Courgette and dill fritters with creme fraiche and salmon
• Chilled courgette and mint soup
• Courgette, parmesan and garlic tart with green olive dressing

For more of Angela Casley's fabulous recipes, visit foodhub.co.nz
Morgan Haines blue wallpaper plate, Rachel Carley bowls, side plates, large platter and Danish natural linen napkins from Tessuti, 224 Jervois Rd, Herne Bay. Ph: (09) 555 9452.

- VIVA