Kate Roff dives into the food fight that is pizza in the US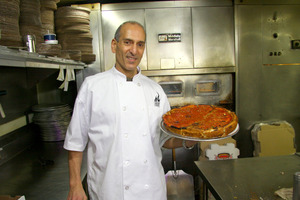 Forget pizza competitions between regions of Italy - if you want to see a real battle, talk to some of the "pizzaioli" in the United States. New York lovers of the thin crust are constantly criticising the Chicago-style deep dish and vice versa, with the rest of the nation wading into battle as well. We spoke to some of the leading pizza makers in the land of opportunity and located six of the best eateries.
1 - Chicago: Pizzeria Uno
Uno's is the original creator of the Chicago deep dish, dating back to 1943. And I mean deep dish - pizzas are as thick as quiches or pies, often with more than one layer of crust, and one slice is a meal in itself. Uno's is now a franchise, but this iconic eatery is a must on the pizza tour - we lined up for more than an hour to order, but it was worth the wait. Numero Uno is the trademark pizza here and you can't go past it, although the Farmer's Market is also a great option for vegetarians.
2 - New York: Grimaldi's
Competing with the deep dish is the New York thin crust, and Grimaldi's is a leading contender. The lines go down the block for this Brooklyn-based restaurant, and they offer a classic example of the thin-crust pizza. Grimaldi's uses coal-fired ovens, rather than wood, and have a no-nonsense policy: no delivery, no credit cards, no reservations and no individual slices (which many US places do).
Honourable mentions: Motorino and Amorina - both serve classic NYC pizzas at their finest.
3 - Detroit: PizzaPapalis
This eatery was founded in 1986 by Joe Sheena, and is a reflection of the midwest's love of deep dish. I am particularly partial to the Papalis Gourmet - a deep dish stuffed with chicken, spinach, garlic and feta. PizzaPapalis is located in an old trappers' lodging (as in fur trappers) and the cosy building smacks of downtown Detroit history. Joe trained in San Francisco with pizza guru Tony Gemignani and has spent the last three years perfecting a new style of Neapolitan pizza for a new venue: NeoPapalis.
Honourable mention: Loui's pizza is another Detroit stalwart, run by a local clan with great character.
4 - New Orleans: Pizza Delicious
Co-owners and chefs Michael Friedman and Greg Augarten hail from New York and opened this place because they missed their home-town pizza so much. These guys have created an oasis in the desert for New York pizza enthusiasts and believe the Big Apple has the best style. "To us, other styles of pizza aren't even pizza," says Friedman.
You can get one of the best Margherita pizzas from here, without the long wait.
5 - Hawaii: Big Island Pizza
This pizzeria is owned by the Kings, a husband-and-wife team who place a huge focus on local produce and homemade ingredients. James King will be the first to admit pizza is an opinionated topic, and it is serious business - the Kings trained as pizzaioli at an Italian school before opening their place. James recommends an alteration to the traditional Hawaiian pizza if you want something really tropical: add toasted coconut and slivered almonds.
6 - Los Angeles: Abbot's Pizza Co
Situated on Venice Beach, this pizzeria is typical of LA: deliciously gourmet and a bit over-priced. Two brothers have brought New York-style pizza to the West coast, also creating the tasty "bagel crust" pizza. They enjoy the freedom LA gives them to deviate from the traditional NY style, and have recently gone out on a limb with their salad pizza - it's got a superb sour cream base and is a fresh twist on the classic.