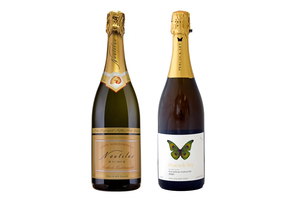 I can still recall from all those years ago the Bible Camp leader at full throttle, decrying the evils of the demon drink. Thumping the lecturn, he would shout: "Shame tonight and pain tomorrow."
He had a point. Champagne, especially drunk quickly and to excess, can send most people reeling. It infiltrates the bloodstream faster than does table wine, is very quaffable and those slender flutes are deceptive when it comes to volume.
Champagne is often associated with celebratory occasions like weddings, anniversaries, race days and the like - events that are leisurely and lengthy by nature. So what starts as a Champagne breakfast rolls into a Champagne lunch and even dinner. You can see where this is going, the end result isn't pretty and a designated driver or taxi is essential. After a bad night followed by an excruciating hangover you're likely to avoid alcohol beverage in general and bubbles in particular.
It's not really the sparkling wine's fault, it's ours. Less is more, because, as we all know (or should), too much of a good thing can be, well, too much of a good thing.
The genuine pleasure of a glass of bubbles can sadly be lost in a wash of excess.
Here endeth that lesson - which you probably knew already but repetition, especially at this time of year, when most Champagne is sold, is not a bad thing.
January is the month when Champagne, or methode traditionelle as we must refer to it outside the Champagne region of France, is usually at its cheapest. Sure, there's all that discounting in the lead-up to Christmas and New Year, but inevitably there is still plenty to sell and the price can plummet even further. Retailers know that bulk bubbles sales occur over the summer months and to be caught with large volumes of stock going into autumn isn't going to help the bottom line.
So discerning buyers can do rather well, especially if you are of the opinion that a more pleasurable sparkling experience comes from quality rather than quantity. Extraordinarily cheap styles can be cloyingly sweet, sickly and migraine-inducing, so if ever there was a case for trying to up the budget for an enjoyable return ... it's with bubbles.

Recommended
Nautilus Cuvee Marlborough NV Brut - $39
A methode traditionelle sparkling wine that has garnered numerous local and international awards. It is a very smart, rich, complex and immensely satisfying wine. It is mainly pinot noir, with a dash of chardonnay.
2010 Peacock Sky Methode Traditionelle - $45
From a Waiheke Island producer and one to watch, this wine has been a couple of years in development. It is 80 per cent chardonnay and (surprisingly) 20 per cabernet sauvignon. It has flavours of summer fruits, especially peaches and nectarines.