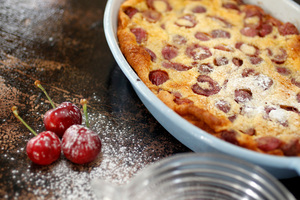 Make the most of the last of the cherries. If you have left it too late you could use plums.
Make a batter:
• ½ cup of all purpose flour
• 3 medium eggs
• 2 tablespoons of white sugar
• ¾ cup of milk
• 1 tablespoon of melted butter
• ½ teaspoon of vanilla essence
• ¼ teaspoon of salt

1. Mix all ingredients and set aside.
2. Take 2 cups of pitted cherries. Melt a tablespoon of butter and toss the cherries into this. Add a tablespoon of castor sugar and a syrup will form. Pour the mixture into a baking vessel.
3. Cover with the batter and place into a pre-heated medium oven. Bake until puffed up and browning, 20 minutes at least. Keep the oven closed during this time or the clafoutis will collapse.
4. Serve immediately with cream or yoghurt.