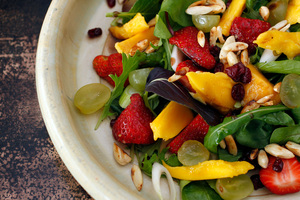 This is delicious with ripe mango or rock melon. You could also add some avocado slices. It's colourful and festive looking, a great salad to make on a large platter and serve with cold meats or simple grills.
Serves 12
• 8 cups of mixed salad leaves including some red for colour
• 2 ripe mangoes
• 1 punnet of strawberries
• 1 cup of dried cranberries
• 4 spring onions
• 1 cup of green grapes
• 1 cup of slivered almonds

1. Make a bed of salad leaves and add the finely chopped spring onions.
2. Slice the strawberries and halve the grapes. Spread these around the salad.
3. Toss the cranberries amongst the ingredients.
4. Peel the mango and slice into segments towards the stone.
Do this over a bowl to collect all the juices. When you've extracted all the slices you can, squeeze the stone to extract the remaining mango juice.
5. Place the mango slices over the salad and drizzle the juice across it.
6. Scatter the toasted slivered almonds as a topping.

Dressing
• ½ cup of light oil
• ¼ cup balsamic vinegar
• 2 tablespoons of raw sugar
• Salt and pepper
Shake well together and dress the salad just before serving.